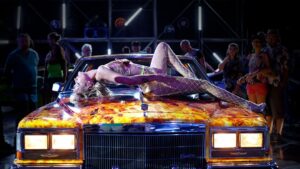 Julia Ducournau's 2021 horror-drama fuses the scaffold of horror with shifting senses of gender, belonging, the body, sex, and technology. The product is a redefinition of the genre in which the object of fear isn't what threatens to harm our bodies but the body itself. 
If there's any time for horror films, it's Halloween. This horror follows Alexia (Agathe Rousselle), a French woman who has had a titanium plate implanted in her head as a child as the result of a car crash – an event which occurs in the opening two minutes and is arguably the simplest the film ever is. After being involved in an increasingly disturbing slew of crimes (now an adult), Alexia flees her life as an exotic dancer and neglected daughter. In its place she adopts the identity of Adrien, who has been missing since he was a boy over a decade ago. The remainder of the film tracks the relationship between Alexia-Adrien and Adrien's father Vincent (Vincent Lindon) as the two play out an emotional tug-of-war in which Vincent blindly insists on being a father and his would-be son resists with equal stubbornness. As this relationship is progressing, we are shown Alexia-Adrien's pregnant stomach secretly growing and being bound over and over again. This is in turn produces a time-bomb of – for Alexia-Adrien – repulsive embodied femininity which mirrors its symbol in the pregnant stomach, repeatedly suppressed to the background of the plot yet remaining omnipresent.
This is, above all, a film about bodies, permeated by bodily insertions. Alexia, already carrying the titanium plate in her head, repeatedly has sex with cars – during which everything except the penetration is shown, relegating this penetration to the implicit and thus penetrating even the audience – and many people both male and female. She murders by stabbing, is threatened with rape, is impregnated, and in a particularly visceral continuous shot she smashes the bones of her face in order to disguise herself as Adrien. Though this preoccupation is ostensibly the result of the attempted rape, with the following scene depicting Alexia symbolically stripping herself down to her naked body and engaging in the transgressive car sex, this trauma response is presented less as a madness and more of unlocking of a bodily repulsion mirrored by all the characters. The most notable double of Alexia in this sense is Vincent, who habitually self-administers steroid injections to his naked behind even after it almost kills him. Vincent's total nudity when administering these injections, his perseverance, and the obsessive nature of the repeated location succinctly highlight the cycle of disgust and obsessive, penetrative bodily manipulation which all of the characters of this film are engaged in. Consequently, the horror format is flipped to make the object of fear not something which seeks us out to destroy us in a totalising blow, but something which is horrific because it exists permanently inside us, destroying our relations with ourselves and each other over and over again as we reform them. By repeatedly affording the viewer such an intimate and gruesome insight into both these scenes of the characters' lives and simply of their naked bodies over and over again, the film also forces the viewer into voyeurism. As a result, even the audience is not able to escape without a lingering sense of self-repulsion.
The majority of the storytelling of Titane in terms of its characters' motivations is played out through beautiful and gloomy visual metaphors and sparingly used dialogue. This effectively fashions rich characters and imbues the character progressions with an ambiguity which is understated yet remarkably human in its complexity. For example, Alexia's shift away from the body and identity which disgusts her and carries abusive, isolating familial relationships and towards those of Adrien produces an oscillating gender dysphoria which appears to resolve itself into a masculine identity largely grounded in being a son. Then we are presented with a penultimate scene in which the protagonist reproduces her overtly feminine exotic dancing and a sex scene which contradicts any simple narrative of a progression towards a father-son relationship between Alexia-Adrien and Vincent. Through this progression through manipulated gender and familial roles it is also never quite clear to what extent Vincent is aware of Alexia-Adrien's true identity and to what extent Alexia-Adrien is aware of that threat. What results is a kind of performance from both characters for the sake of the one thing which is not affected – their bond (yet, as we see in the final scenes, even that is not allowed to remain uncomplicated).
While such ambiguity is an asset to the film's complexity, and is executed efficiently, it does create a viewing experience which is so based in decoding unspoken motivations that on first watching it occasionally veers into confusing. The sex scenes involving cars in particular are so inherently transgressive, occur so early in the film, and are so at odds with the realistic, horror-esque tone of the first act that until much later in the film it goes beyond intriguing and is slightly disengaging, threatening to be comedic. In fact, this entire sci-fi element, while effectively factoring into the themes of corporeal manipulation and dysphoria, jars with the tone of realism and detailed inspections of human social relations adopted by every other aspect of the film. The result of this is a lingering feeling of two films coexisting: one a story about family, the body, and identity, and the other the beginnings of a sci-fi film attempting to break through and disrupt that narrative. However, with this perfectly mirroring Alexia-Adrien's pregnancy throughout the film, and the concluding birth tying both these plots together, it is up to the individual viewer to determine whether this uneasy feeling of jarring plots is a side effect of the film's complexity or in fact an intentional mirroring of the dysphoria felt by the characters. At worst Ducournau has created an immersive redefinition of horror and a blending with drama and sci fi which tells a visually and emotionally beautiful, complex story with precision and craft, but is slightly overambitious in its tonal blending. At best, it is a work of art so robustly constructed and self-reflexive that it consciously induces the feelings of the characters for the audience not simply through depiction but through its genre-bending structure itself.
                                                                                  –Rhys Monaghan