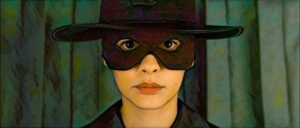 To have a strong or wild imagination has been a quality both admired and ridiculed within society. Amelie (2001, dir. Jean-Pierre Jeunet) tells a story of an emotionally intelligent and eccentric protagonist through such an intense visual and audible imaginative experience, that one simply cannot ignore. 
In some cinematic cases like this one, delving into the dynamics of a character as a storytelling technique may be more powerful than a conventional narrative at triggering empathy in the audience. In the second scene of Amelie, viewers are immediately positioned as curious and observant spectators while the omniscient narrative voice exposes the eponymous protagonist's parents' life stories, habits, likes and dislikes.This sets the tone for the rest of the film which prefers to look into individual characters' minds as opposed to a traditional plot line. This scene opens with a flawlessly smooth zoom into Mr. Poulain's face as he rigidly poses in front of his place of occupation, and this shot is repeated in reverse with Mrs. Poulain, now zooming out of her face, while the narrator describes them. Perhaps this foreshadows the deeper closeness that Amelie feels towards her father which we will later sense throughout the film, in comparison to the emotional distance between her and her mother. Witty comments of mockery appear on screen beside her parents' heads for comedic effect, yet also as a way of hinting at their faults which viewers may recognise as universally relatable human weaknesses. Both of these techniques automatically strengthen the connection between viewer and character, establishing this arousal of empathy as a crucial element to fully grasp Jeunet's vivid storytelling. In addition, a distinction in identity from one's family is a trope of such fantasies that succeeds in isolating the protagonist and heightening their intrigue as a character. Examples include Pan's Labyrinth's (Del Toro, 2006) 'Ofelia' and Beast of the Southern Wild's (Zeitlin, 2012) 'Hushpuppy', but Jeunet slightly subverts the trope by using an adult protagonist seemingly for inclusivity and representation. 
The strictly neat nature of the scene mentioned above differs greatly to the scenes showcasing Amelie's character, whose subjective point of view fills the production and becomes the viewer's perspective too. The scene also serves as a contrast to Amelie's whimsical self, whose psyche we explore through colour, rapid camera movement,  editing and sound effects. Our attentiveness to the story is enhanced when Amelie appears onscreen and fills the frame with a signature style and vibrant colour scheme as an iconic symbol of uniqueness in comparison to her drearily conforming parents. In a magical moment, Amelie gazes at a desirable character, thinking he is looking back at her and her thumping heart becomes a visible animation through her chest accompanied by its heavy pounding rhythm. This visual is familiar to the audience, as her doctor father would give her heart check-ups as a child, diagnosing her with a heart failure when in fact the case was her nerves. Jeunet continues telling a story through character experience as the poignant visuals mirror Amelie's ultra-imaginative nature, since her childhood. This is a scene which – through graphic use of editing – exemplifies the excitedness and anxiety that we are manipulated into feeling and the closer we are positioned into Amelie's own sensorily overloaded perception. We become one with Amelie as we share her curiosities, desires and vulnerabilities. 
I think this film does a good job at reinforcing the notion that a big imagination, strong emotions and sensitivity are not immature qualities that should be stigmatised. Adults feel things too, and that should be embraced and validated, because it is honest. This reminds me of the Wyndham theatre's adaptation of Life of Pi which I saw on the weekend, where for the first time, I heard the quote: "Which story do you prefer? Which is the better story, the one with or without the animals?" and Mr. Okamoto replies "The one with". In the fantasy genre, it is typically children that lead, but productions like Amelie inform us that fantasy is everyone's own subjective truth, made up of individual experiences. Give it a watch if you haven't already. 
Written for The Film Dispatch by Maria Farsoon