"It's Like Riding a Psychotic Horse towards a Burning Stable."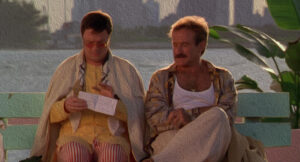 Mike Nichols' 1996 film The Birdcage is extremely ahead of its time as a queer film.
Centered around Albert (Nathan Lane) and Armand (Robin Williams) Goldman, a gay couple who own and perform at a South Beach Drag club, The Birdcage, this film is fun, sweet and hilarious. The Birdcage is an English-language remake of the 1978 Franco-Italian film La Cage aux Folles, and the musical of the same name. The film handles the conflict between conservatives and the queer community and does so gracefully,utilizing humor to ease tensions. Armand's son Val (Dan Futterman), the result of a drunken night with a woman, intends to marry his girlfriend Barbara (Calista Flockhart), the daughter of a Republican senator. Using comedy not only allows different audiences to connect with this film but it helps to ease the tension of a very real and very serious issue of safety of queer people in communities where they are not accepted. While this film has a happy ending, acceptance being something that is essential for the queer community to have in the film world, the reality of these situations is not always so easy. However, The Birdcage indulges in its own enjoyment of challenging the bias of the conservative ideology when it comes to understanding and accepting queer relationships.
 The Birdcage is not a film driven by plot. Instead, its central focus is on the characters and that's why the performances of Lane, Williams and Hank Azaria specifically have shined through into pop culture immortality. Lane's performance as Albert is nothing short of fantastic, as the star of the intradiegetic Birdcage, it is no surprise that he shines as the star of the film. His role as the classic basket-case with a side of over-the-top-femme is all about the dramatics, and it centers the spotlight around his comedy. This film is full of tongue-in-cheek jokes:Agador (Hank Azaria) helping to calm Albert through giving him his daily Pirin (aspirin with the 'as' scrapped off), Agador not wearing shoes because he can't walk in them, Albert attempting to do a John Wayne walk to appear macho, and the sheer amount of improvisation  from Williams and Lane promote so much comedy throughout the film. The use of comedy, star performances and representations of nontraditional familys (at the time queer representations in film were still largely stigmatized and sexualized, something that is improving over time) make this film fun while also doing very important work. Up to the point of release of this film the most popular films containing Drag queens were To Wong Fu, Thanks for Everything Julie Newmar! (Beeban Kidron, 1995) and Pink Flamingos (John Waters, 1972). This film, while it incorporates a large use of stereotypes, does so to break into the family film market. The use of stereotypes has been largely criticized but it seems purposeful; it is supposed to be fun, camp and definitely extra as a way to break into the  market of  family films with this introduction into the joy of gay culture. It can easily be enjoyed by any age group as it has plenty of accessible comedy (although there is some crass language), serving as a great introduction to queer film. The Birdcage, while it has its problems, when seen at face value is a celebration of queer culture and the importance of acceptance in allowing people to live as their true identities. If you have not seen The Birdcage it is a perfect film to experience this Pride Month to not only see a film that predates the legalization of gay marriage in the United States, but also to pay attention to the progress that has been made in representations of queerness since its release.
Written for The Film Dispatch by Grace LaNasa.