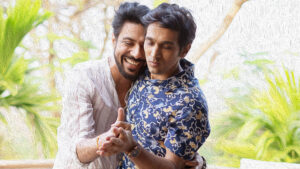 Love, food and music have always been intertwined and Modern Love Mumbai's "Baai" episode perfectly encapsulates this. It reminds me of a quote from Shakespeare's Twelfth Night, that says "If music be the food of love, play on; / Give me excess of it, that, surfeiting, / The appetite may sicken, and so die."
All around the world, people are familiar with Amazon Prime Video's TV series adaptation of the 'Modern Love' column of The New York Times, which became a critically acclaimed show in 2019; starring an ensemble cast, including Dev Patel, Anne Hathaway, Tina Fey, Andrew Scott, and many others. 2022 brought the second season of Modern Love, but it also brought along six episodes, produced by Amazon Prime Video India – Modern Love Mumbai. The show tells stories from the film industry heartland of India, encompassing families and friends and love affairs and, most importantly, how it all ties in with the city that watches all, like a loving mother who takes on every person who lives in Mumbai on a journey of self-discovery.
The second episode is the one that most struck a chord with me. I've always believed that India is made up of its people and the billions of stories each person comes from, and "Baai" truly represents that. We follow the protagonist, Manzu's life, from his childhood marred with the violence of the partition that took place between India and Pakistan after the British Raj ended, and how his family, especially his grandmother helped him through it, with her bravery, resilience and coolheaded nature becoming what he looked up to the most about her, to his young adult life, where he discovers not just his sexuality, but the inherent homophobia that his family has, and the crippling realization that they might never accept or understand him, to his adult life, where he makes a name for himself, creating music, and ultimately finds love in Rajveer, who accepts and loves him for who he is. It is a story of everything that India represents – the culture – the good, the bad, the ugly, the traditions – the memorable ones that we take on with us, but also the ones that hold us back in the name of "Log kya kahenge?" ("What will people say?") and most importantly, love – in all it's imperfect, ever-changing forms.
So much love rests in the little moments spent with family growing up, around the dining table. Eating my favorite meal made by my grandmother and knowing that nobody could ever come close to making that tomato fish curry that she did, was what I was reminded of when Manzu talked about the korma and nihari that his Baai made for them. And how, that love for his grandmother, that shines above the trauma that he grew up with, given the brutality of the partition and the homophobia of his family, was what held him to Lucky Manzil, which would always mean home to him.
And when he met Rajveer, it was his two loves that introduced him to his new love – music and food. As Manzu sang, Rajveer cooked, the way his grandfather liked to sing and cook, and when he made Manzu the meal that had a special place in his heart, we saw how all it takes is giving a piece of one's heart in the form of a dish or a song lyric and asking the other to trust them with it. The Indian film industry only has a limited amount of representation for the LGBTQIA+ community, and our of that, only a handful is not stereotypical, and can be counted as healthy and positive – Modern Love Mumbai was able to create such a story and opens up the conversation of what it really means to be a part of your country if all parts of you are not accepted.
This episode brought out an issue that people in the LGBTQIA+ community in India deal with growing up, and how it can have such a lasting effect on one's own identity, and that is internalized homophobia. Manzu grew up being told that he was wrong, what he represented, the way he loved, was not "normal," and that he had to be "straightened out," and such a man could only be sent to hell and be the cause of Baai's demise, causing her pain. But that was never the truth. It took Manzu time and pain and healing to realize that being gay is not evil or wrong – it is beautiful, and it all made sense when he met someone who loved him so wholeheartedly, and reminded him of home, and assured him that he was safe, that he was worthy of love.
Manzu got to tell Baai that he was in love with a man, and was happy, and she in turn, was happy for him. Not many people in our country get to do that. But such Modern Love stories gives us hope for a better tomorrow, for more acceptance, for more love.
Written for The Film Dispatch by Sukanya Choudhury.