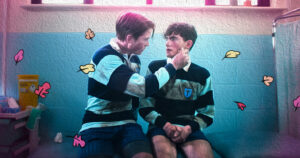 The new smash hit Netflix production Heartstopper was released on the 22nd of April, 2022. In the short time span since its release however, it has won the affections of not only the queer community, but the world.
Finding its spot as one of the top 10 English TV shows in just two days after its release, Heartstopper has set itself up for a successful continuation into its now confirmed additional two seasons. Heartstopper draws from a series of graphic novels of the same name, written by Alice Oseman, and as such it came into the film industry with a previously solidified fanbase. However, despite this it has still attracted fans for various reasons. The show, centers around Nick (Kit Connor) and Charlie (Joe Locke) as they fall in love in a heartwarming, pure and cathartic celebration of queer love.
Queer Joy
The most important element of this show to the queer community is its normalization of queer love. As the show centers around two young boys in high school falling in love, the audience gets to enjoy a very normalized concept for heterosexual relationships – young love in highschool – reframed in a queer setting. Queer representations in film have often been overtly sexualized, or only depict queer misery functioning as trauma porn. These representations of trauma are necessary and real, yet there needs to be duality in representations. Leading up to the show's release, many of the most popular LGBTQ+ depictions deal with heavy trauma – for example, Moonlight (Barry Jenkins 2016) although one of my personal favorite films, is extremely bittersweet. Watching Chiron struggle with his sexuality in an extremely homophobic environment is difficult and emotional, despite the overall story. Additionally, shows like Orange is the New Black (Andrew McCarthy 2013) represent and normalize queer love while traumatizing transgender characters such as Sophia Burset (Laverne Cox). There are so many instances where films and TV shows take a giant leap forward for the queer community but do so in a way that feels bittersweet for the audience. There has been a severe lack of shows that purely celebrate and normalize queer love, which leaves audiences with skewed negative perceptions of queer lives. Thus doing something that is so desperately needed in the film industry (not just by one show either, there need to be more productions like this), Heartstopper shows a love story that indulges in the joys of queer love. 
For the older generations that struggled to come out, and never got to enjoy their queerness at a young age, seeing this representation is a testament to the work that they have done paving the way for future generations. But for the younger generations, Heartstopper serves as the turn of a new page, where queer relationships are so much more normalized and common and queer love is celebrated instead of hidden. As much as it is important to address the trauma that so many queer people face, to gain greater normalization there needs to be more depictions of queer joy. If all young people see in media is their queerness being bullied, discriminated against and questioned, there is no hope for such audiences to understand the happiness that they will find in living their true selves. Heartstopper addresses bullying and stigma in a way where it is not the main focus of the story, and fully encapsulates the duality of queerness – and life itself – that is comprised of both hardship and joy. Watching Heartstopper has been so incredibly important and healing to so many in the queer community, it is like a breath of fresh air (or a gust of leaves perhaps) to watch the characters explore queerness and all the joy that comes with living as your true self. Abandoning queer misery and focusing on joy, new love and differing queer identities, Heartstopper established itself as a very important piece for the queer community.
Diversity and Consent
The use of a diverse queer and BIPOC cast also allows this show to appeal to a greater audience, and for more children turning to this show to find representation. The main cast is comprised of gay, lesbian, bisexual and transgender teenagers which is essential to this show's importance, as not only does it show queer joy but it shows it in many different queer relationships. The diversity of this cast is one of its greatest strengths, especially for young audiences as many teenagers can see representations of themselves in happy relationships. There is a well-known concept of 'queer time' that describes how queer people's life trajectory doesn't progress in the same way as a straight person's. Taking the time to discover your sexuality leaves many people with a sense of having missed out on time, varying by the individual. While queerness in general is gaining a lot more representation, BIPOC representations of queerness and transgender characters especially are being left behind as they are much fewer and further between in mainstream cinema. However, Heartstopper attempts to ensure that a diverse range of audiences will feel represented and as a result the concept of 'queer time' will hopefully begin to shorten for a fully inclusive LGBTQIA+ community.
In a refreshing change, it appears that the producers are following the changing discourse in the queer community as alongside the diversity included in Heartstopper, the topic of consent finds itself as one of the main themes of the show. Consent is a recurring undertone throughout the show: Nick saves Charlie from a situation where consent is not given, Charlie asks Nick for consent to kiss him, and they both continue to check in with each other for consent following their first kiss. Heartstopper includes consent checks throughout the season showing viewers not only how important it is to check if your partner is okay, but also displaying how easy it is to do. Heartstopper is putting forth an extremely healthy relationship, despite how young the two protagonists are, as they emphasize clear communication and boundaries. Heartstopper will hopefully influence younger generations as well as older ones, to prioritize consent and boundaries.
Setting and Techniques
The setting of rugby that gives Heartstopper a bit more form and direction is also so important to the themes of the show, as well as the reception. Rugby is easily written off as a very macho sport, but, in my opinion, a bunch of sweaty players grabbing at each other lends itself very easily to homoeroticism. Rugby has traditionally been a very inclusive sport: there are several mens leagues throughout the world specifically dedicated to gay players, and the womens' side of rugby has always been especially inclusive to gay and transgender players. There has even been an uproar from the women's side of rugby to pressure the World Rugby administration to not discontinue its inclusion of trans players. With rugby's strong history in being inclusive towards gay players having this as the setting of Nick and Charlie's romance blossoming is special to the rugby community. I personally heard about this show through my own rugby teammates, and it holds a special place to all of us. Rugby's history of inclusion may not be prominently defined in the show, however the audience watching Heartstopper can easily identify the importance of a sport that has built itself off of inclusivity, as well as in general its homoeroticism.
Heartstopper shows how beautifully simple love can be, with so much of its most powerful depictions not including words and instead using animated images of leaves and sparks to communicate the characters feelings. Heartstopper includes its background as a graphic novel in the production of the show as it uses animations from the novels, drawing an important connection to the show's roots and pre-established fanbase. These details also create a stylistically beautiful visual for the audience, one of the many strengths of this show. The soundtrack includes greats like CVRCHES, Baby Queen, Maggie Rogers, Waterparks, and more that add to its strength as well as appealing to a younger audience. Combining the stylistic choices of visuals, soundtrack, a great cast and drawing from a well established book series, these all work together to enhance the overall vision of a pure, cathartic experience of young queer love. Heartstopper has given the queer community so much hope for the future and if, for now, that  means having something to watch and bond over, that is a small step. However it seems that  Heartstopper is going to change not only the production of queer media going forward but also hopefully create change in perceptions of queer relationships. The impact of Heartstopper may be minimal or it may be grand. However, representation matters, and I'm confident that despite the struggle still ahead of us that there are more of us, with more tools to combat discrimination, than ever before.
Written for The Film Dispatch by Grace LaNasa.