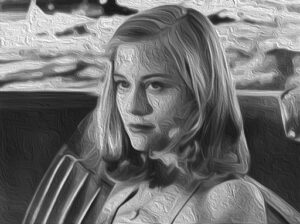 It was surprising to watch The Last Picture Show (1971) as the last picture show on the beach at Cannes. It was a fantastic experience to simultaneously enjoy the seascape and an excellent film. 
It tells the story of how the youth passes away. As many audiences concentrate more on guys' young lives in this film, I prefer to share more about that "American bitch", Jacy (Cybill Shepherd). 
Jacy is one of the most beautiful girls in this small town, but she is also a "good girl" to people's eyes, which seems to reduce her charm. In order to break this stereotype, she tries to do many rebellious things, such as joining in the strip show on a diving board, sleeping with her mother's lover and so on. The desire and nervousness of Jacy to have sex for the first can happen in almost every teenage girl and her silly attempts to ensure her attractiveness are common for pretty and popular girls. The conflict between innocence and lewdness in her mind is a sort of reflection of adolescent girls' uncertain sense of themselves. Seeing Jacy as a simple bitch is a misunderstanding of adolescent girls. 
Written for The Film Dispatch by Zihan 'Joy' Deng.