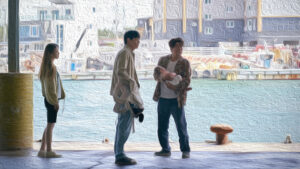 Broker (2022) is another example of director Koreeda's personal style. Controversial characters – such as baby traders and mothers who abandon their children – are sympathetically portrayed in his film, with warm humanity.
After watching the film, I think Koreeda tries to explore the hesitation, helplessness and ambivalence that women have about the role of motherhood. However, the film has so many characters and a complex storyline that this issue is not given enough room for discussion. It was not my favourite film I saw at Cannes, but I admired the attention that Koreeda gave to social issues, his warm style and unique way of interpreting these issues. At the post-screening conference, Koreeda said that he did not want to write about social issues with a harsh reality but preferred to use a gentle, flowing narrative and the inner insights of the characters to resonate with people and encourage them to think about the social issues reflected in this film. By focusing on women's issues and working deeply on them, Koreeda compensates for the lack of  male perspectives in feminine movies. His films are as gentle and delicate as the characters he shows in his conversations.
Written for The Film Dispatch by Qiongying Hu.