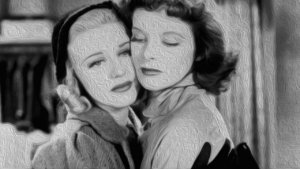 Stage Door (1937)In 1936, RKO Pictures acquired the film rights to Edna Ferber and George S. Kaufman's play Stage Door. They, quite rightly, believed that this story of life in an all-female theatrical boarding-house would be a good vehicle to show off the talents of some of the young actresses under contract to the studio – in particular, Ginger Rogers and Katharine Hepburn. 
What they may not have believed is the fact that, 85 years later, the film still has a captive audience. A quick look at the reviews of the film on letterboxd.com gives an insight into who exactly this audience is. There are numerous mentions of 'homosexual undertones', a good number of comments declaring the lead characters 'girlfriends', and a fair few 'and they were roommates' references.
Men do not play a large role in the world of Stage Door. Those who do appear do not fill any real romantic function. The most significant male character is the lecherous producer Anthony Powell, played by Adolphe Menjou, and any other men in the film seem to exist solely to tell us more about the female characters. For instance, the lumbermen highlight Judy's Seattle roots, and the appearance of Terry's father informs us of her privileged background. 
Instead, Stage Door places its lead characters, Jean Maitland (Ginger Rogers) and Terry Randall (Katharine Hepburn), in a narrative arc usually reserved for heterosexual romantic leads. Stage Door offers our two leads the opportunity to play, fantastically, to type. Rogers as Jean Maitland, a wisecracking tough-girl, and Hepburn as Terry Randal, the ambitious daughter of a wealthy family. Jean and Terry meet when Terry arrives at the Footlights Club, the theatrical boarding-house where Jean has been living for some time. Terry is immediately marked as an outsider, with a refined transatlantic accent, an extravagant amount of luggage, and 50-dollar bills with which to pay her rent. She heads upstairs to her new room, where she meets her new roommate, Jean. Jean, dressed, somewhat suggestively, in her bathrobe, looks Terry up and down. She is sceptical but intrigued. The barbs they toss back and forth rival those of the best romantic comedy meet-cutes. Any viewer with the slightest inclination to look at media through a queer lens is now invested. 
Throughout the course of the film, the arc of Jean and Terry's relationship is such that if either of the two girls were a man, it would undoubtedly be read as romantic. They quickly start to form a bond. This bond is most clearly demonstrated when one evening Terry lends Jean her fur coat as she heads out for an evening with producer Anthony Powell, and then tucks her in when she arrives back at the boarding-house drunk. This casual intimacy cements the Jean and Terry pairing as the ideal happy ending in the mind of the viewer. In most other films of the era centring on female friendship, this happy ending is a wish that is not granted. However, in Stage Door, the relationship between the female leads continues to develop along the lines of a conventional romance narrative. Terry decides to do something in an attempt to protect Jean, that she knows will lead to Jean resenting her – at least temporarily. This drives a wedge between our leads until a pivotal event brings them back together. The film's ending shows them continuing to room together at the Footlights Club.
To return to the meme so frequently cited by users on letterboxd.com, 'Oh my God, they were roommates'. 
Written for The Film Dispatch by Katherine Heller.