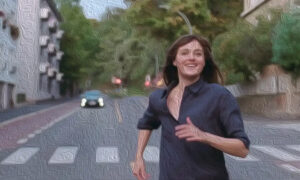 Like many movie-goers, a good trailer can inspire me to part with my hard-earned money. The trailer for The Worst Person in the World (2021, dir. Joachim Trier) doesn't quite do justice to how serious and emotive the film can get.

The film follows Julie (Renate Reinsve), a young woman navigating life and relationships. Julie is the descendent of flawed heroines like Phoebe Waller-Bridge's Fleabag. She is indecisive, flitting between vocations and men. She makes impulsive, questionable decisions. Unable to decide on a career or whether she wants kids, Julie doesn't fit into the moulds of womanhood that onscreen women usually come in. Arguably, it is because of her faults – her lack of direction, her impulsive nature – that Julie feels relatable.
Like Julie, the film itself is divisive. Walking out of the packed cinema hall, it was hard to pinpoint how my fellow movie-goers felt about the film.
What is clear is how well-made the film is. The Worst Person in the World is well-acted and shot. The editing is creative throughout with some truly unforgettable sequences – including Julie's visually stunning experience of taking magic mushrooms. The film has moments of humour and heartbreak. There were many times when the audience laughed out loud in unison. There were just as many quiet sniffles and quick eye wipes. If you decide to see it, it would be worth investing in a packet of tissues. The soundtrack complements the visuals by being eclectic but not intrusive. The film is broken up into twelve chapters with each one feeling like a self-contained short film. Still, stringing together these episodes into a feature film emulates the feeling of life as we move from one phase to the next, constantly growing and learning, just like Julie.
Throughout the film, Julie writes articles which her various boyfriends praise as 'well-written'. Other than 'well-written' they don't seem to have any more adjectives to describe Julie's work or even any clear idea of what it is about. These letters mirror the film itself. The film presents us with philosophical musings that avoid pretension. It makes interesting points in an interesting way. But these points are never unified into an overarching message or moral.
Instead, the film feels more like an experience of life. If you are looking to experience life through a set of cinematic eyes, Julie might not be the worst person in the world.
Written for The Film Dispatch by Niamh Carey-Furness.