Choosing where to live as a postgraduate student is a big decision, and with all the different options, you may find yourself struggling to weigh the positives and negatives. A good place to start is by narrowing down whether you want to live in University-provided, student accommodation or whether you would rather find private accommodation. Our postgraduate writers, Jess and Mallory, will now provide a snapshot of the pros and cons of each of these living situations and recount their own experiences of choosing housing as incoming postgraduate students.
Jess on Student Accommodation:
I was quite torn over whether I should live in private accommodation or university halls. I had lived in university accommodation throughout my undergraduate degree and fancied a change but I also knew that finding somewhere through the university would be easier.
A friend from school was also moving to Edinburgh at the same time as me and wondered if I wanted to live with her. However, I decided not to for a couple of reasons. I was in the middle of my undergraduate finals and I was too busy revising to look for somewhere to live. I did not want to leave looking for somewhere until July or August as I knew it would stress me out. Moreover, I decided not living with my friend from school would be a good way to meet new people and she agreed.
It was easy to apply for university accommodation. There is a list of all the halls available and what each one contains. Then all you have to do is give your five preferences, you don't even need to rank them. It is also worth noting that there is separate accommodation for undergraduates and postgraduates so you will be living with people at the same stage of life as you.
I ultimately chose the five cheapest places, although I did also want somewhere quite central as I like to work in libraries and don't like to travel too far when I want to meet up with friends.
I am very happy with my choice to live in university accommodation, even if I am now on my fourth consecutive year of using a communal laundry room. Although my closest friends are my coursemates, I have met lots of great people through my flat and the surrounding flats. There are lots of welcome events during the first week where you can meet people and these events continue throughout the year.
Living in university accommodation also means that if there is a maintenance problem it is quickly sorted through an email rather than having to talk to your landlord. It's a lot less stressful knowing that there is always someone on call if something does break down.
Overall, I think there are both positives and negatives to living in university accommodation. However, the big plus point is the ease in which you can sort your accommodation. It only took a few clicks to send off my options and I knew by the start of August where I was going to be living.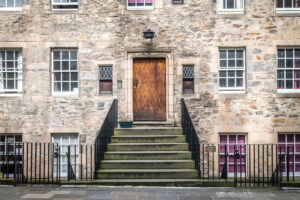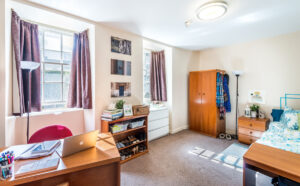 Mylnes Court student accommodation
Mallory on private accommodation:
Although there are several different options for student housing, many of you may face special circumstances like I did where finding an off-campus living situation is more practical or even necessary. There are certain freedoms afforded with properties not managed by the university, and it may suit those bringing a partner, pet, or child with them better. My husband moved to Edinburgh with me, and although he is also a postgraduate student, he is completing a programme at a different university further from the city centre. As such, we wanted a flat that was equal distance from both of our campuses and one that provided us with a quieter, residential experience as a married couple. A positive about private accommodation is that you can select a flat and a neighbourhood that may match your needs better than student accommodation.
However, student accommodation is arguably the most convenient for the university, and oftentimes, finding private accommodation that is centrally located and near the campus can prove difficult due to availability and price. There are often affordable properties for rent outside of the city centre area that may be cheaper than student housing (especially with a roommate), but this will of course increase commute time for class or any other activities on or around campus. Thankfully, Edinburgh is very walkable and bike-friendly, and for even longer commutes or rainy days, the bus system is reliable and inexpensive.
The process of finding, viewing, applying for, and signing a lease for private accommodation can be very frustrating and overwhelming, especially as an international student in a competitive market. As Jess stated above, student accommodation allows the ease of picking from guaranteed housing options without the need to deal with viewings, landlords, and utility companies. My advice for apartment hunting in Edinburgh is to give yourself time to find a place (at least a month), have applications completed/in hand for any viewings to be one of the first submitted, go to as many viewings as possible, and to keep in touch with letting agents to ask questions, see the newest listings, and ensure legitimacy. Also, the university can act as a guarantor if you are an international student planning to live with other students in private accommodation. Many letting agencies require a guarantor or up to 6-months of rent paid in advance if you do not have renting/financial history in the UK.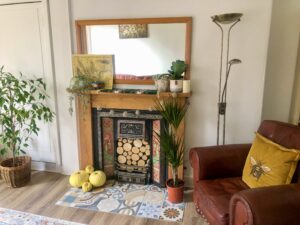 But for my husband and I, the challenges of finding private accommodation was worth it and looking back, we would do it all over again to have a flat that fits our specific wants and needs. We love coming home to our tiled fireplace and having the sense of ownership of our first adult home together.
Choosing where to live is a big decision, and at the end of the day, it comes down to the specific needs and wants of a living space. The convenience, social inclusion, and ease of applying to student accommodation cannot be beaten, but for some, the freedom, flexibility, and privacy of private accommodation may offer a better sense of home in Edinburgh.
(Mylnes Court)