Our student writer Mallory has LOTS of amazing suggestions on how to spend your downtime including going for a pint in one of Edinburgh's many enticing pubs, socialising with friends during the summer nights down at the Meadows or enjoying an ice cream along the promenade at Portobello beach.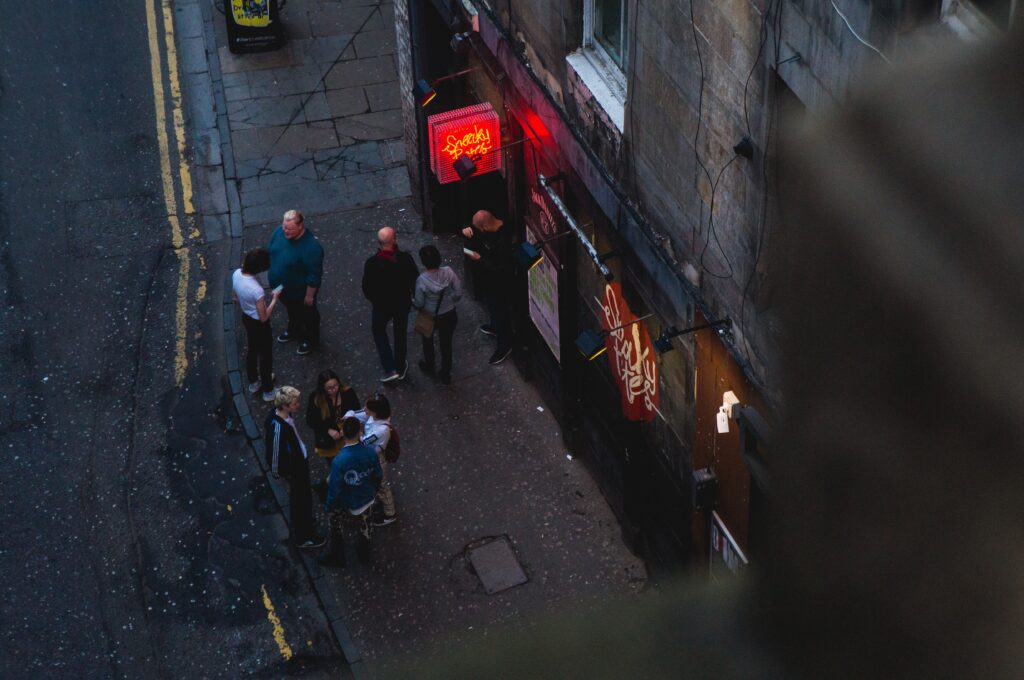 One of the best things about being a student in Edinburgh is the city itself. Filled with gems, hidden and unhidden, Edinburgh has something for everyone. It is impossible to be bored in a place with as much variety as Edinburgh.
Edinburgh is a place like nowhere else for the pub drinkers out there. Although it's rare to find anywhere that sells a pint for under £5 in the city centre, the atmosphere and quirks of many of the pubs make up for the cost. Classics include Cold Town House, which has a rooftop section. This is situated on Grassmarket, the home of many pubs, including White Hart Inn, the oldest in Edinburgh. Quirkier places include Frankenstein, which is inspired by the book and shows the old black and white film on its screens, Doghouse, and Paradise Palms. If you want to venture into New Town, then the equivalent to Grassmarket is Rose Street, which is, again, filled with pubs and bars.
If you like live music with your pint, then Edinburgh also has multiple options. My personal favourites are Finnegan's Wake and Stramash. Both venues advertise who is playing beforehand so you can plan your trips based on the music you and your friends like. Finnegan's Wake has a more intimate vibe, as it's only small, while Stramash is located inside a converted church and has a large dance floor.
For something more comforting than a night out, then Edinburgh has a wide variety of cafes, too. A student favourite is Black Medicine and this is located very close to Old College. Just down from Black Medicine is Nicolson's Cafe, a must for any Harry Potter fans. Other recommendations include Pulp 'n' Grind, Le Petit Café, Union Brew and Coffee Angel. However, the best place to go, especially if you're in George Square, is Uplands Roast Coffee, a coffee stand in the Meadows.
Speaking of the Meadows, Edinburgh is an incredibly green city, with loads of lovely outdoor spaces to socialise in. The Meadows is a classic location as it's so close to the university and is often filled with people having barbecues when the sun comes out. There are also beautiful cherry blossom trees there to savour in Spring (or take a photo of just to brag to your friends on Instagram about how pretty your uni city is). My personal favourite outdoor location for a walk with friends is Holyrood Park; nothing beats the view of Arthur's Seat from Salisbury Crags. And, if you're feeling touristy, you could always walk up to it. Other great vantage points are Calton Hill and Blackford Hill, perfect for an evening walk with a friend.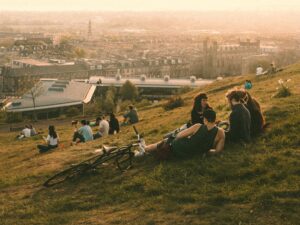 If you fancy going a bit further out of the city centre, then Portobello Beach is a great place to go with friends. It's a very expansive space and the front is lined with places selling drinks, ice cream and, of course, fish and chips. One of the highlights of my year so far was going to Portobello on Bonfire Night and watching all the fireworks that were being set off by the numerous groups sat along the beach. There was something comforting about sitting by the sea wrapped up in a coat, sipping from a flask of mulled wine, and watching the fireworks.
If I was to list everywhere to go to socialise in Edinburgh then you would never reach the end of my blog post. But I hope I have been able to give you a small flavour of what your social life here could be like.