It's spring and the mountains are calling… or at least they were to Ariane on the Early May Bank Holiday. Ariane is here to share with you how she responded to the call and bagged her first two Munros with a group of friends.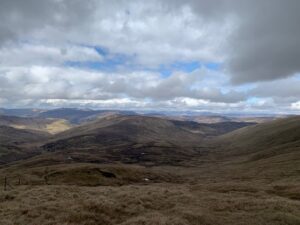 Whilst there were some soggy moments, the overall experience was wonderful and definitely took my mind off my studies for a few hours.
I'm fortunate enough to have made friends with some students who have cars which made getting up to the mountain trails a lot easier, although I'm told that it is possible to get to some of the Munros by public transport, or with a tour group. I'll put some links at the bottom of this blog that says more about how to get to some Munros.
On Monday, we loaded up the car with snacks and lots of layers and made the 2-hour journey to Perth and Kinross where we found a mini-car park (a little bit of gravel with enough places to park a handful of cars). We then climbed Meall Corranaich, followed by Meall a' Choire Leith.
We ate lunch at the top of the first summit and ate flapjack and maoams at the top of the second peak. Our overall walking time for the hike was 4 hours and 17 minutes and we had an elevation gain of 748m.
The beauty of walking in Scotland is that you can find walks that suit any level of experience/ fitness. As a group we really enjoyed doing a walk that took a good few hours, but wasn't at all technical or arduous – this made it a really accessible day trip.
I would definitely recommend making a trip up a Munro during your time in Edinburgh – who knows maybe you'll even make it through all 282 that there are in Scotland.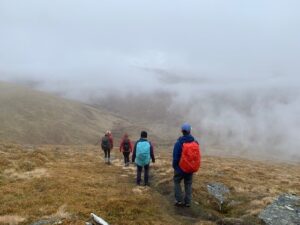 If you do decide to go here's a little checklist of the things that I took with me (it's definitely not an exhaustive list but might be a good place to start):
A map to navigate the mountain
Good walking boots that you've broken in
Walking socks (and a spare pair in your bag)
A rucksack
Lots of water – I took 2 full bottles
Lunch
Lots of snacks (flapjacks, fruit and sweets were my choice for the day)
Layers (Sports t-shirt, Jumper, Spare base-layer, Waterproof coat, Spare leggings)
Walking trousers
Gaiters (I thankfully didn't need these)
Sunglasses
Happy Hiking!