Blog by Katie, Sociolgy
We're so lucky to have such a vibrant food scene in Edinburgh, with cuisines ranging from Scottish to South African. With more and more people, especially students, going vegan or trying vegan food, a huge variety of vegan restaurants have opened up in Edinburgh, ranging from healthy places to fancy places to good old pub grub. Now, full disclosure, I am not vegan, but I eat vegetarian and dairy free most of the time, and love finding new ethical eats in the city. Here are my top five favourite vegan eateries in Edinburgh.
Lunch on the go: Bross Bagels
Bross Bagels is hands down one of my favourite places to eat in the city, whether you're eating vegan, veggie or meaty. They have branches in Leith, the West End, Bruntsfield and Stockbridge, but my personal favourite is to cycle down to their Portobello shop and eat a bagel at the beach.
Their menu puts a twist on Montreal bagels, with fillings inspired by New York Delis, Scottish classics (like haggis and brown sauce), and everywhere in between. Each branch has a unique bagel or two, so it's really worth doing a grand tour of all the locations. Whilst The Lock, Stock and Two Smoking Holes (not vegan) from their Stockbridge shop will always be the best bagel of my life, I also love Dirty Rachel's Vegan Sister, which has facon, 'cheese', sauerkraut, crispy onions, jalapenos and Mama Bross' 1000 island dressing. Another vegan classic is the Nuggs Faux Sho! which has meatless buffalo nuggets, pickled fennel slaw, shredded lettuce, pickles and Mama Bross' vegan ranch dressing.
Bross is a woman-owned small business, and does regular charity fundraisers through their rainbow bagel Holes of Hope scheme, so is definitely a good one to put your money into, as well as being super delicious.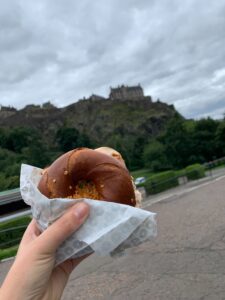 Dinner and drinks: Paradise Palms
Coming in a close second is Paradise Palms. Just a (literal) stone's throw from the University's central campus area, this queer bar turned vegan food hotspot is just incredible. They serve a range of American-style food, but all made veggie or vegan, alongside a great range of draft beers and delicious cocktails. I usually get the maple and sesame seitan nuggets, fries, maybe some fried pickles to share, and a mojito. They also do an amazing New York Deli-style vegan burger, vegan mac and cheese, and chilli cheese loaded fries.
Cheap, cheerful and close to campus, this is a great one to try with friends and a fantastic queer space to show your support to.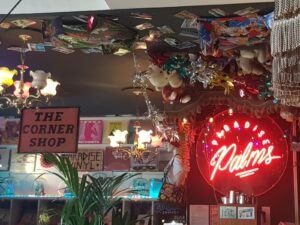 Summer treat: Mary's Milk Bar
While the name might suggest that it's not very vegan-friendly, Mary's Milk Bar is hands-down my favourite place for dairy-free summer treats.
Whilst they call it sorbet, Mary's dairy-free options always taste like vegan gelato. Their sorbet's are the silkiest, creamiest vegan ice cream I've ever had, and believe me, I have tried many. I absolutely love their chocolate sorbets (without milk they aren't so rich!) but their fresh flavours are also amazing, with some of the highlights being Mango and Chilli, Cucumber and Mint, Grilled Peaches, and Strawberry and Balsamic.
They post the flavours every day on Instagram – make sure you give them a follow so you know when to run down and grab a cone!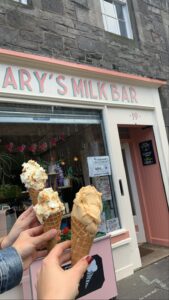 Brunch: Grams Edinburgh
Most well known for their healthy meal-prep scheme, Grams Edinburgh also has a cafe open for brunch, lunch, coffee and cake, with loads of great vegan options. Situated in Stockbridge, it's a great stop on your way to the charity shops or after a wander in Dean Village.
Personally, I always go for the vegan Slow Pork avocado toast and a green smoothie, followed by one of their Biscoff cakes. I have it on good authority from my sister that the protein pancakes with peanut butter and jam, while not vegan, are also very delicious.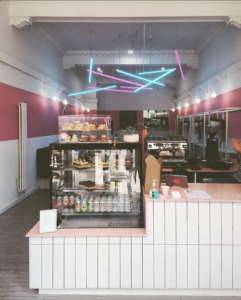 Photos: https://www.instagram.com/gramsedinburgh/
Something new: Harmonium
Harmonium has been around for a few years now, but their new menu looks absolutely amazing. Their menu is 100% vegan, with fusion dishes including Mini Thai Crab Cakes, Pan Seared King Oyster Mushroom Scallops, Chipotle Haggis Quesa-Crunch, No-Fish & Chips, Truffle Shuffle Cheese & Bacon Burger, and a Greek-style 'feta' and olive pizza, Il Greco. I haven't been able to get a booking just yet, but I can't wait to try it, and I think you certainly should too.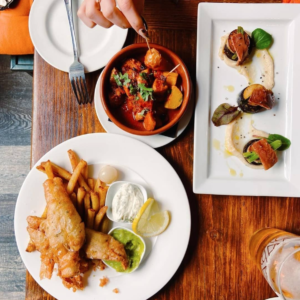 Photos: https://www.instagram.com/harmoniumbar/
Banner image by Ella Olsson on Unsplash.