The festive season is almost upon us and we're all on the hunt for perfect gifts for friends and family. Fortunately, Edinburgh has a fantastic second-hand scene, offering a more affordable and sustainable shopping alternative, with loads of fantastic charity shops to hunt for hidden gems. Katie is here to share her top tips!
By Katie, Sociology
Top charity shop locations in Edinburgh
We're really spoiled for choice in Edinburgh when it comes to different places to go charity shopping. Location can make a big difference when it comes to what types of things you can find. There are loads of great places within walking distance from campus – I've listed my favourite shops in each area to keep you right:
Stockbridge
An up-market area in Edinburgh, Raeburn Place is an absolute must for charity shopping. I've found the selection of books and gifts here to be particularly good, so it's a great place to go in the run-up to the festive season.
If anyone on your gift list is into vinyl, Oxfam has a great record store in the area. I especially love the Chest, Heart and Stroke Scotland Boutique shop, which has a really well-curated collection, and is where I found my all time favourite shoes for just £5.
If that wasn't enough, the British Red Cross has a wedding dress section, Save the Children has a 'living and giving' gift-focussed shop, and there's an Oxfam book shop.
Don't forget to pick up a Bross Bagel when you're in the area (see my vegan food blog for details).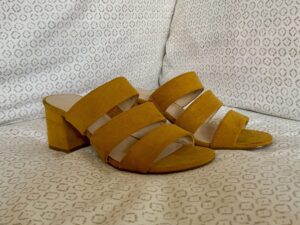 The Bridges
Just a stone's throw from central campus, there are several good charity shops on Nicholson Street. This area is very 'studenty,' so it's a good place to find modern, 'young' clothing. It's also a fantastic place to look for household items, especially around graduation time when a lot of students are leaving Edinburgh and having a big clear out.
Do note though, the shops get cleared of gems very fast because of the number of students in the area who are all looking for a bargain.
As well as clothes and homeware, there's a great Oxfam Book Shop on Nicholson Street, which is a great place to look for uni textbooks at a discounted price.
Morningside
Morningside is another up-market area in Edinburgh, so there are loads of great quality items to be found in the charity shops on the A720, just down past Churchill and Luca's ice cream shop.
As well as great clothes, the Bethany Christian Trust has loads of furniture, which is ideal for upcycling for gifts or filling up your flat.
Bruntsfield and Tollcross
A walk down from Bruntsfield Place towards Home Street and Tollcross is another good charity shopping route.
There's another Chest, Heart and Stroke Boutique on Bruntsfield Place where I found an incredible cropped, electric purple jumper.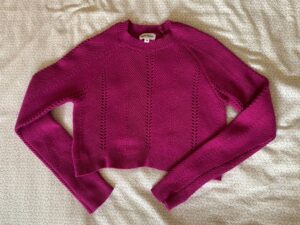 The Cancer Research Shop next to 'Hoochie Coochie' is amazing – last time I was there they had multiple items which would work for ABBA or Mamma Mia costumes, great gifts, lovely fabrics, and very rare true-vintage 90s clothes.
Dalry
If you're willing to walk a bit further, there's another line of charity shops on Dalry Road. A particular favourite is the British Heart Foundation Furniture and Electrical Shop, which has loads of great homeware bargains – my cousin got himself a TV there for less than £50!
My top tips
Charity shopping can be time consuming, but it's also great fun and super rewarding. Here are my top tips for charity shopping in Edinburgh:
Make a list of what you're looking for, but keep an eye out for hidden gems
Take a friend with you, and tell each other what you're looking for – two pairs of eyes are better than one
Rummage through all the sections – there are great clothes to be found in sections for all genders and ages
Never buy something cheap in a charity shop and re-sell it online for a profit – a lot of people rely on charity shop prices to get by, and it's super unethical to put prices up for your own gain
Have patience. There's a lot of rummaging involved, but it makes it even more fun when you find something good!
Banner image by Artificial Photography on Unsplash.