Looking to get out of Edinburgh for the day? Donna has shared her recommendations for four fantastic places that are just a train ride away from the capital, so you can see a little more of Scotland while you're here.
Edinburgh is one of those cities where there is so much to do, from soaking up the rich history and culture, attending one of the many events on offer or eating and drinking too much at one of the many cafes or restaurants.
However, Edinburgh is also the perfect base for exploring the rest of Scotland, with plenty of amazing day trip locations only a short train journey away.
I've made a wee list of my favourite places visit when taking a well-earned study break.
Glasgow
Only around an hour by train from Edinburgh, Glasgow is Scotland's biggest city and has been voted the friendliest city in the world twice by Rough Guides (2014 & 2021), with the locals always happy to share a story or two!
Glasgow also offers visitors, and residents, a vibrant music and art scene, with over one hundred gigs taking place each week.
Glasgow also boasts 24 museum! Many of them free and specialise in everything from transportation (the Riverside Museum) right through to puppets (the Mask and Puppet Centre).
There is also an abundance of shops, bars and places to eat meaning there is something for everyone.
Transport in Glasgow is excellent – it's easy to explore the city via its train, bus and subway links.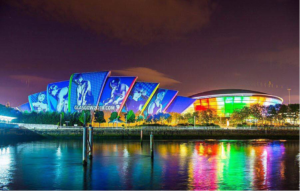 Photo: Visit Britain
Falkirk
Not often thought of as a tourist destination, Falkirk has plenty to offer. Only around 30 minutes by train from Edinburgh, Falkirk is home to a range of visitor attractions. The Kelpies are undoubtably one of the most popular. Created by Andy Scott, these two 30-metre-tall Kelpies – mythical beasts which transform and have the strength of 10 horses – are officially the world's largest equine sculpture. The Kelpies are situated in the Helix Park, a recently built greenspace. You can even book on to a tour which allows you to gain access to the inside of the structures!
Falkirk is also home to the Falkirk Wheel, the world's only rotating boat lift, which connects the Forth and Clyde Canal with the Union Canal by lifting boats 27 meters in a circular motion.
Also worth a visit is Callander House, a grand chateau-style 14th century house with a restored Georgian kitchen.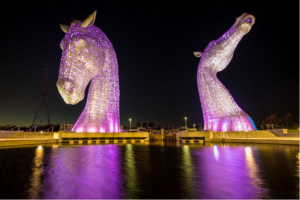 Photo: Paul Webster, Walk Highlands
North Berwick
North Berwick is idyllic seaside town in East Lothian, only around 35 minutes away from Edinburgh by train.
Nothing blows away the cobwebs and clears the mind quite like taking a stroll along a Scottish beach. Visiting on a sunny day means you will be treated to golden sand and bright blue water, whilst grey days (and let's be honest, this is more likely!) means crashing waves and crisp salty air.
No visit to North Berwick is complete without a walk-up North Berwick Law, a cone shaped hill that can be seen miles away. It offers beautiful panoramic views of the town and surrounding coast, with a replica whalebone paying tribute to a real one that that rested on top of the Law since 1709, until it rotted away in 2005.
After all that walking, be sure to treat yourself to something sweet from one of the many local cafes on the high street.
Photo: Visit Scotland
Linlithgow
The royal burgh of Linlithgow is only 20 miles west of Edinburgh, a 15-minute train ride, and is a bustling little town, complete with its own palace and loch to explore. Take the time to feed the swans and ducks, with food bought from the canal centre, whilst making the 2.25-mile loop around the loch.
The historic high street is home to the recently refurbished Burgh Halls, as well as lots of local, unique wee shops. To the south is the Union Canal where you can take a boat trip around the town or over the nearby aqueducts.
Be sure to grab something to eat from the huge choice of cafes restaurants (with something to suit all budgets) followed by an ice cream from Mac's of Linlithgow, before you head home.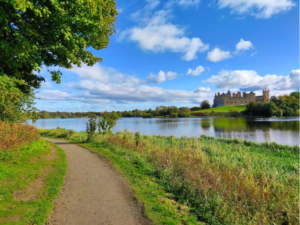 Photo: Scotland Off the Beaten Track