We are delighted to welcome a new postgraduate writer, who along with our existing writers will be sharing their experiences and thoughts on the things that matter to them. Meet the newest member of our team! 
Welcome to the Students at SPS blog!  
Adekiite
Subject: MSc Africa and International Development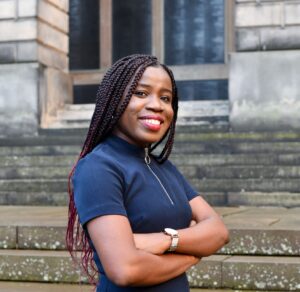 Hi. My name is Adekiite Tanimowo. I am studying a master's degree in Global Health Policy here at the University of Edinburgh. I practiced as a doctor in Nigeria for a few years before deciding to take up this programme which has been made possible with the generous support of the Mastercard Foundation.
Coming from a science background, I have both been intrigued and slightly perplexed by the Social Science Method of pedagogy and assessment which is mainly through critical thinking, argumentative reasoning, and academic writing amongst others. I didn't know mere words could be such powerful tools of knowledge. It turns out they really are. So, spoilers alert, you would be hearing a lot about levelling up your critical thinking game from me as I share many of the lessons I have learnt so far.
When I am not actively pursuing my academic interests, I love singing, writing, sightseeing, learning new languages and making new friends. Since coming to this magical city, I have taken a stroll through the lovely meadows, climbed Arthur's seat, visited Edinburgh Castle, attended a concert in Usher Hall and had coffee with a friend at Kilimanjaro (the café and not the mountain). I am about to take up yoga and swimming.
What I have loved most about Edinburgh so far is the people; very polite and always willing to help. Except for the occasional bus mishaps (I once entered the wrong bus because I only took note of the number and not the destination) and the cold weather that often makes me consider buying a ticket to fly back home the next day, I have had a most amazing time of my life and it is a pleasure to meet you.