It's only been a few weeks so far, but the second semester has been a busy one. Donna is here to provide the low-down on how her semester is going.
Blog by Donna, Social Work
As a third-year social work student my first practical placements are due to start at the end of the month for 70 days. I'm both incredibly excited for these to start, as it will be my first chance to experience what the role of a social worker is like in the real word and dreading it! What if I don't know what I'm doing?
Placement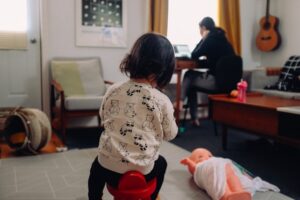 Up until now, we have covered a lot of theory and case study scenarios. These have been a great way to allow us to attempt to apply all the knowledge we have learned to 'real-life' situations, and as helpful as they are, they can't fully prepare us for real world situations, and their ever-changing narratives, and this is what scares me the most… 'the what if'?
What if I don't know the answer? What if I give them the wrong advice? What if I turn up and am faced with a situation I wasn't expecting, will I have the knowledge and skills needed to adapt? These are the questions that have been repeatedly keeping me awake at night!
I have been placed within the social work department at an independent fostering agency and will be working to help place children with local foster carers and supporting them throughout that placement. I will also work with the foster carers, and their birth children, to ensure things are running smoothly, and help them overcome any issues, or concerns, that may arise during the placement.
As a consequence of the Covid-19 pandemic, my placement will be hybrid. I will split my time working at home and within the office, as well as attending meetings and home visits. At first, I was a little disappointed not to be in the office full time, thinking I would be missing out on the 'experience' a little by spending half my week working at home, but after discussing this with the agency I am now looking forward to it. The team regularly meet online to discuss the cases they are working on, so I won't be missing out on the social aspects of the office, and I will be able to keep in contact with my supervisors through Teams, so will always have someone available to discuss anything I'm unsure of, which is very reassuring! It will also reduce the need to commute significantly, which is always a bonus. As restrictions relax, I will have more opportunities to work from the office and help organise events and training for the young people involved with the agency, which sounds both fun and rewarding.
Coursework
However, before placement starts there is still lots of learning to fit in. We have a condensed course to complete, which means fitting a semester's worth of teaching into 4 weeks! This has been quite full on and included fitting in two 2-hour lectures twice a week, a tutorial, and preparing for a group presentation. After this I need to submit a 3000-word essay as well!
Dissertation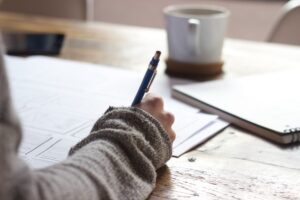 Dissertation preparation is also underway, with my proposal due to my tutor next week. Throughout placement I also need to complete two 3000-word essays as well as working full-time and be assessed by my practice educator, who ultimately decides if I pass my placement or not. Over the summer I also need to undertake a literature review which is linked to my dissertation topic and prepare my placement application form for my final 100-day placement in year 4. It's fair to say it's a busy semester!
Although it has been very full on so far, being able to attend lectures and tutorials in person again has been great. It's been so nice to meet up with others on the course and to be able to support each other face to face, rather than online. I am a big procrastinator, so attending live lectures has helped me to keep up with the workload, whereas last semester I often fell into the trap of 'catching up' on lectures right before assessments were due, which left me feeling very overwhelmed and underprepared. I am keeping my fingers crossed that the restrictions continue to ease, and that in person learning continues.
I hope second semester is going well for you too.
(Photo by charlesdeluvio on Unsplash)