Blog by Lulu, Sociology and Politics 
When it comes to unique attractions, Edinburgh doesn't fall short. The more you wander around our beautiful city, the more you will spot a mixture of picture perfect and magical sceneries ready to take your breath away.  From nature to museums and parks. Edinburgh has hidden gems on every corner. I personally enjoy exploring different cities and I have to say, Edinburgh is my favourite. After sharing a few of my favourite spots in the city with you, I hope you get to fall in love with it as much as I did. So, what are these hidden gems of Edinburgh?  
Edinburgh Castle
Not so hidden, but undoubtedly the most iconic scenery the city has to offer. Take a walk up the Royal Mile and let it lead you straight to the heart of the city, the castle. Standing on a castle rock, it not only holds great historic significance in Western Europe it also offers breathtaking views You will need to pre-book a ticket if you're interested in exploring the interior of the castle. However, if you're like me and are mostly interested in the scenery, then you ought to be camera-ready. I strongly recommend visiting near sunset to capture the best view.
Jupiter Artland
Up for a little adventure? Say no more. This place is located just outside the city centre and is open between May and September. It is designed as a contemporary sculpture park and art gallery filled with all sorts of exciting things. The best part for me is walking into the gate and having a map handed to you for your own exploration. My adrenaline kicks in and I start to feel like I'm on a little treasure hunt with each stop of the way more breathtaking than the previous one.  My own personal favourite is the 'cells of life' area by Charles Jencks, which features landforms connected and surrounded by lakes, and topped by sculpture exhibits. If I had brought a book last time I visited, I would've just sat there and read in silence. Or painted the view with my non-existent painting skills. Other sections are just as exciting. You never know what to expect, as things like the mimi store and statues of the weeping girls catch you by surprise, yet other exhibitions wow you with their beauty. Book a ticket and experience it all!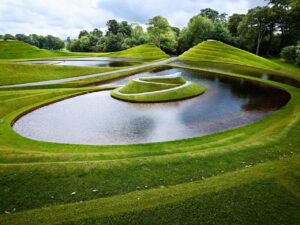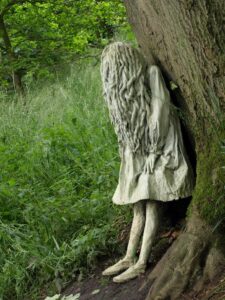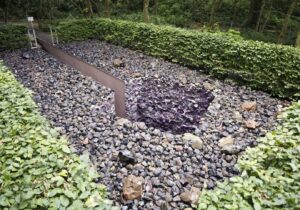 Camera Obscura and World of Illusions
If you're looking for fun places to visit, nothing says fun more than a day in Camera Obscura and the World of Illusions. This place is located by the Royal Mile, walking distance from the Castle. It consists of over 100 mind-bending illusions. It is a lot more fun when visiting with someone you can have a laugh with, be it friends or family. The best part of this place, in my opinion, is the rooftop terrace because it allows you see most of the city. This allows you to tour around without actually moving. Not to mention the beauty of the view on sunsets.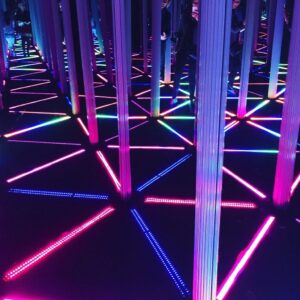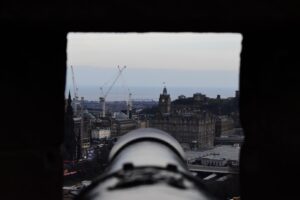 Dean Village
Not too far from the Scottish National Gallery of Modern Art, this place borders the Water of Leith, following a peaceful stream while grounded by beautiful architecture. Taking a walk down the path can help you clear your mind whilst admiring the roaring sounds of the river and the beautiful intersection between nature and the city's sandstone mills and Tudor revivals en-route. To top it all off, it's free!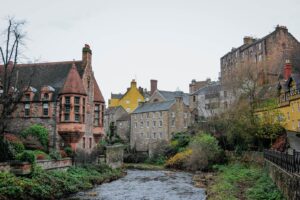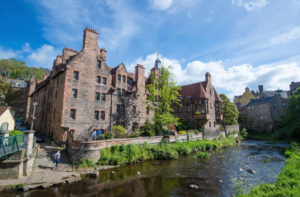 Royal Botanic Garden
This is where the beauty in nature is brought to life.  This spectacular garden consists of a diverse collection of plants from all over the world, set over 70 acres. Not only is it beautiful to look at, but the garden can also assist in discovering history dating back to the 17th century. Besides the fact that there is a huge variety of flowers, I specifically like visiting the gardens over Christmas. Yes, sometimes making plans in the December weather can be a challenge, but I can't miss the fairy lights and decorations of this place that make it ten times better! Nonetheless, the garden is breathtaking any time of the year. The locals hold this place close to their hearts and I hope you will too.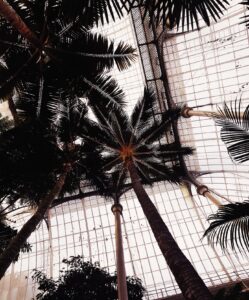 Thank you for joining me as I visited five of my favourite places in Edinburgh.  However, it is no secret that Edinburgh has a lot more hidden gems waiting to be discovered. The only way we're able to properly appreciate the city is by starting our exploration journeys ASAP! I am excited to find out about what you discover.
Banner image by Imran Perwez on Unsplash.