Getting ready to start at university for the first time? It might seem a little overwhelming to figure out what you'll need to bring, but Katie's here with her top packing tips to help get you started.
So, you've chosen Edinburgh, you've found accommodation, you're super excited, but what on earth do you bring with you?! For most people, going to University is the first time they move out of home, and it can be really overwhelming to figure out what you actually need to bring. Often, people bring way too much stuff and still end up forgetting key items. Based on my experience of living in student and private accommodation, here are my top tips.
Before you start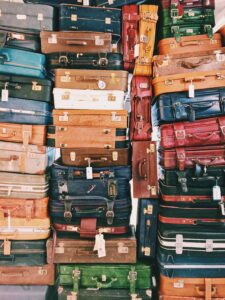 Have a big clear out. If you're still at home with your parents you've probably accumulated a lot of stuff over the years, which makes deciding what to bring and what to leave behind really overwhelming. If you have a clear out first there'll be less stuff to choose between!
Find out what is already provided in the accommodation you're staying in. Most student accommodation will give you a list, but for private accommodation you can request an inventory from your letting agency or landlord.
Make yourself a list so you don't forget anything, perhaps using the one below. Categorise it into what you already have, what you want to buy before you leave, and what you can buy when you get there.
What to pack
Bedroom
Focus on the essentials, not just decoration. Wee things like photos and fairy lights can really help make your room feel more like home, without costing too much or taking up too much space in your bag.
A good pillow or two
A duvet – check whether you will have a single or double bed!
Sheets, pillow cases, a duvet cover – bring two sets because it's really hard to wash and dry them all in one day
A mattress topper can be really good to make a mattress more comfy, but maybe try out the mattress for a week before you decide if you need one
A fluffy blanket
One decorative cushion (no, you don't need six!)
A nostalgic, childhood toy (no shame here)
Photos of friends and family from home
Fairy lights
Small mirror
Clothes
The key thing with clothes is to think about the weather. In September, you're packing for Autumn and Winter in Scotland, so definitely bring layers. Then, if you go home at Christmas or in Spring, you can swap some of your warmer clothes for some summer ones.
The other thing to bear in mind is that you do not need everything. Try to pick one or two favourite pairs of jeans rather than bringing all the jeans you've ever owned. A common mistake is to bring loads of fancy, going out clothes. Most of the time you'll be dressed casually, so focus on those items or things which suit smart and casual occasions.
T-shirts and casual tops
Warm jumpers
Jeans, casual skirts and trousers
A warm, waterproof jacket
A more formal, lightweight or going out jacket
Socks and underwear
Comfy clothes for lounging in, like a pair of joggers and a hoodie
Sports gear – the amount will depend on how many times per week you work out and how often you want to do your washing
Going out tops, dresses, skirts, trousers – think about wearing different combinations using just a few items
Something you could wear for a job interview – you never know!
Pyjamas
A comfy pair of trainers
A good pair of boots – they will get you through Edinburgh winters and nights out alike
Toiletries
Again, pack the essentials but buy what you can when you get here because toiletries can be really heavy.
Shampoo, conditioner, shower gel
Toothbrush and toothpaste
Hand soap
Skin care
Make up
Hair brush
Towels – like sheets, having two is really handy because washing and drying them in in one day is a nightmare
Bathmat
Period products
Hair dryer (plus straighteners and/or curlers if you use them)
Basic first aid kit
Study
I recommend getting most of this when you arrive – your introductory classes will be really helpful for working out what you actually need.
Laptop and charger
Paper or notebooks
Pens, pencils, highlighters
Textbooks – wait until the first lecture and ask which ones are essential, which ones the library has plenty copies of, so you don't buy books you don't really need
Diary or planner
Ring binders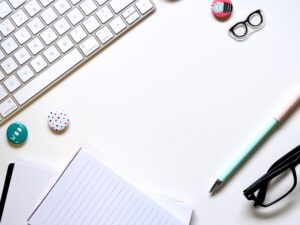 Image from Jess Bailey on Unsplash
Kitchen
Try to get in touch with your future flatmates and divide up who's bringing what. It'll save you all a lot of money and baggage weight! There'll also be a lot of things you can get once you're here – flatmate trips to IKEA where you split the cost work really well.
Saucepan or pot with a lid
Non-stick frying pan or wok
Cutting board
Sharp knife
Grater
Sieve
Stirring/serving spoon
Tongs
Spatula
Baking tray
A small roasting dish – great for all sorts, from lasagne to brownies
Vegetable peeler
Measuring jug
Tupperware – great for storing leftovers and taking lunch onto campus
Cutlery: two knives, forks and spoons per person. Don't forget about teaspoons!
Crockery: two dinner plates, two small plates and two bowls each
Glasses: two per person, and make sure to bring a nice tall one for your desk or you'll be getting up constantly when you're trying to work
Your favourite mug from home and a spare
A bottle opener
Tea towels – bring a few because they need washed quite often
Scissors
Tin opener
Oven gloves
Washing up sponge or brush
Other
Extension lead
Speakers
Pins (most accommodation don't mind pins in the wall, but bluetack is a definite no-no!)
Laundry basket or bag – get one with good handles for walking down to the washing machines
All your various chargers
Ear plugs (the walls in halls can be thin)
Clothes hangers
Plug adapters, if you're coming from abroad
Passport and ID documents
University documents, like your acceptance letter, accommodation contract etc.
Safer sex products, like condoms
Umbrella
Batteries
Clothes horse
Rucksack for day-to-day use
Small weekend-sized bag for trips home or away with friends
Water bottle
Hot water bottle
Pack of cards or another small game
In conclusion…
Think about what you really need day-to-day and pack based on that. You aren't going to another planet – there are lots of shops in Edinburgh where you can grab anything you forgot or later decide you really need. So, don't panic-pack more than you need, try to collaborate with your future flatmates, and don't overthink it. Good luck!