Hi, I'm Josh, a Second-Year History and Politics student here at the University of Edinburgh.
As I near the halfway point of my degree, I'm struck by how much has changed in my life in such a short space of time. Only two years ago I was waiting to see if I'd receive an offer, unsure about what the future would hold – now, I'm living with my friends in my favourite city, with no shortage of things to do, studying a degree that fascinates me.
What I love about Edinburgh as a city is its variety: over the course of an afternoon, you can go from the bustling urbanism of Princes Street, to the picturesque greenery at Holyrood Park or the Meadows, to the idyllic beach at Portobello. Edinburgh has all the benefits of living in a city – you'll never be bored, however long you stay here – but it marries that with the tranquillity that most urban areas don't offer.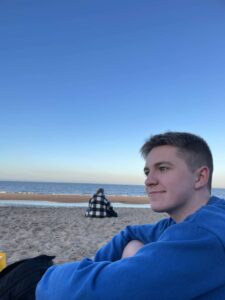 Edinburgh really is the perfect student area: it's compact enough that all my friends live within walking distance, but its public transport links mean you're only a bus ride away from anywhere else in Scotland. It's filled with quaint coffee shops and cafes, but has enough nightlife to satisfy even the most avid party animal – few cities in the world manage this juxtaposition so well, and I couldn't imagine studying anywhere else.
Studying a joint honours degree means that I split my time between the School of History, Classics & Archaeology, and the School of Social and Political Science. I've loved doing both subjects, as it provides so much variety to my studies and allows me to jump around different topics and interests.
Another thing that I've loved about studying at Edinburgh is the electives system. Until your third year, you can choose a number of courses from other degrees to supplement your compulsory courses. This has allowed me to pursue my interests, and I've been able to avoid specialising too much.
As a history student, Edinburgh's storied past is just another benefit of living here: walking the same streets as Hume, Scott and Darwin is, in a very literal sense, Enlightening (please forgive the pun!).
I can't wait to tell you more about life at Edinburgh in the coming weeks and months!