Reading Time:
5
minutes
Henry Searle was one of the Edinburgh medical students who graduated early last year so that he could join the fight against Covid-19 as an interim foundation doctor. He tells us about the experience of graduating in 2020 and being thrust into the frontline of medicine.
Edinburgh degree: Medicine 2020
Current treasured object: My flatmate Brendan gave me a Bonsai tree for Christmas. Apparently it's a symbol of friendship so I better keep it alive!
Song of the moment: 'Blinding Lights' by the Weeknd. It's nearly a year on from lockdown and all the TikTok dance videos to this song!
The first thing I noticed when I woke up this morning: Blue skies and sun!
On graduating in 2020
Final exams for Medicine finish at the end of February and are followed by the year splitting into two rotating halves for the final stage of our studies. The first half commences a six week elective, which is a placement we organise for ourselves anywhere in the world and the other half begins a six week assistantship shadowing junior doctors in the region. I was due to do my assistantship first before starting my elective in Sydney.  I had planned to shadow a Professor in Orthopaedic Surgery and then join a group of friends to travel to the East Coast of Australia, before hiring a campervan to travel across New Zealand.
Unfortunately, two weeks in to my assistantship, everything was cancelled due to the pandemic and lockdown. This meant that those already on their elective had to scramble to find last minute flights home, and all elective plans were wiped out. It was a great shame as this was a unique opportunity to be able to organise a placement of our choice, anywhere in the world. It was something that I had organised the summer before. Sadly, such an opportunity is not likely to happen again unless we all decide to take a year out of training. So many doctors told us that going on their electives was one of the highlights of medical school.  It was so frustrating to have all our exciting plans suddenly cancelled.
Like other graduates, we also missed out on our graduation and graduation ball. It is a big event organised each year by the Final Year Committee and consists of a weekend away in a country hotel. It's especially significant because after spending six years studying, it's an opportunity for a final social event to celebrate together before we all head our separate ways to start our jobs as foundation doctors. It was so disappointing! We are hoping that when restrictions allow we may be able to have an evening ball instead, but not everyone will be able to make it due to differing rotas.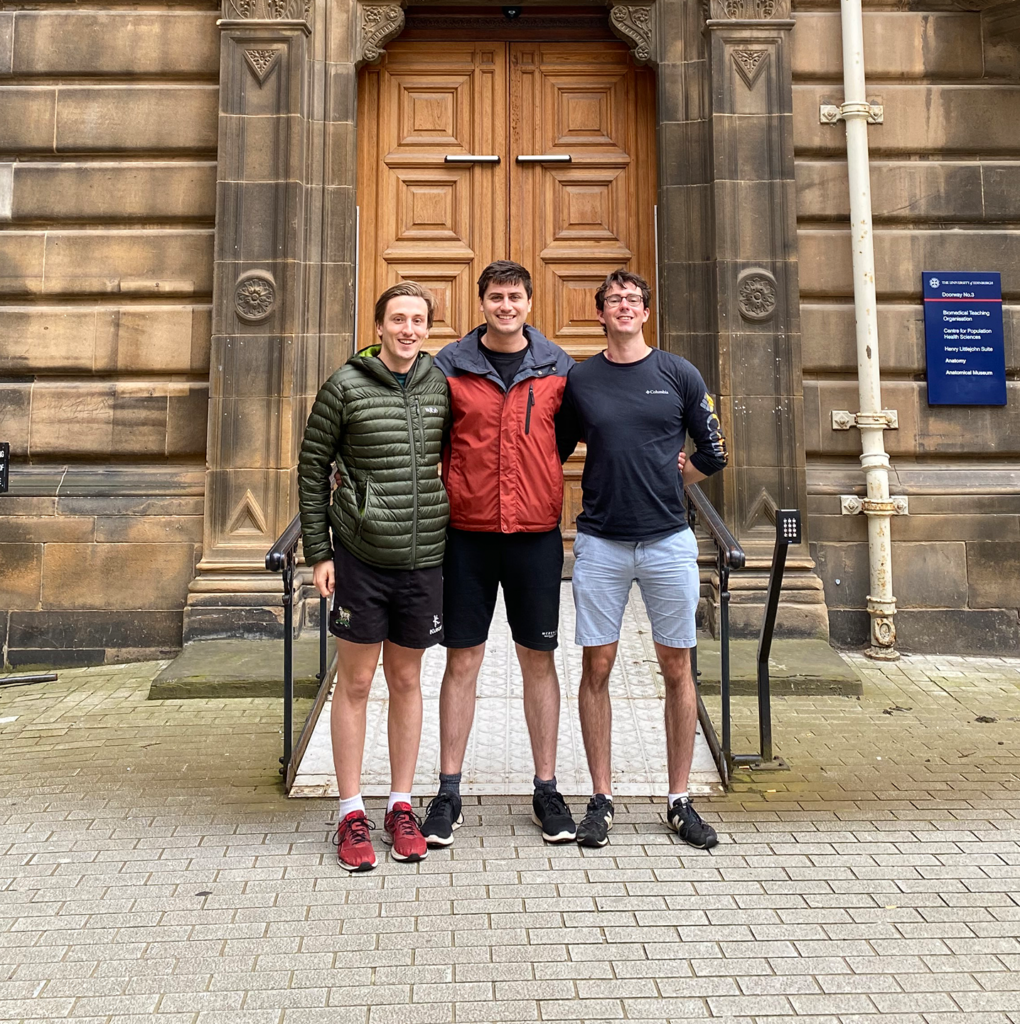 Since our electives and assistantships were cancelled, we had some time off while the Medical School decided what to do with us. I chose to stay and spend my final months in Edinburgh with friends. We tried to make the most out of the novelty of lockdown, and to enjoy the time off after working so hard for our finals. Soon into lockdown, Matt Hancock, the Health Secretary, announced that final year medical students were to be deployed on the frontline to help with the pandemic. It took a while to sort out the details, but it meant that, if we had passed our finals, we could opt to graduate early, start the registration process with the General Medical Council sooner and begin work in the brand new role of 'interim foundation year doctor'. We had an online graduation two months earlier than originally planned. It was strange to graduate online and not have a big celebration after six years of study, but I thought the online graduation was a nice touch given the circumstances. A highlight was our Dean of Undergraduate Medicine, Dr. Kluth, dancing to Praise You by Fatboy Slim!
I, along with my colleagues who signed up to become interim foundation doctors, started working on the wards on 22nd April. Whilst it was nerve-wracking, it was in hindsight a really beneficial time. My job was split between the Acute Admissions ward and the Trauma and Orthopaedics ward. We were well supported, and it was a fantastic learning experience to be given the responsibilities of a junior doctor.
It meant that when I started my actual job in August, I was more prepared and confident. And of course the added advantage was that we were also being paid for the first time!
Life on the wards
So I found myself working in NHS Fife as an interim foundation doctor alongside others I'd been at Medical School with. We agreed it helped us get over the feeling of 'imposter syndrome' because we knew we had been accelerated into that role. There can be a lot of anxiety about starting on your first day as a doctor in August, not least because it is traditionally called 'Black Wednesday'. But being given the same responsibilities then as my current job has helped me settle into the role of a doctor. Whilst it was disappointing my elective and travel plans were cancelled, I was grateful to be able to do something productive and have the opportunity to work alongside others in my year and call them colleagues.
In August, I started my first job in Milton Keynes in the Intensive Care Unit (ICU) and was there until December. It was daunting, especially during a pandemic, but it was also a fantastic first job where I was able to perform invasive procedures and help manage the sickest patients in hospital. This will definitely help me in my future career.  I also attended many cardiac arrests which made me reflect and learn on how best to deal with medical emergencies. Due to the nature of ICU, and the fact that admission to ICU is associated with a high mortality rate I also had to become quickly accustomed to frequent death.
Towards the end of my rotation, we started to see more Covid-19 patients come through as the next wave progressed.  The patients deteriorate relatively quickly, and then take a long time to recover. Unfortunately, for some patients the team felt hopeless as no matter what interventions the nursing or medical staff made, it seemed that patients were heading in the wrong direction. Despite maximal treatment, there was nothing further that we could do.
I am currently now on a Psychiatry rotation, with a day each week dedicated to Orthopaedics research with NDORMS (Nuffield Department of Orthopaedics, Rheumatology and Musculoskeletal Sciences).
During the last year, it has been great to be able to work in a job for which I have studied for so long.  Whilst it can be intense at times, I am so very grateful that the nature of the job allowed me not to have to work from home but to leave my house each day and have a bit more normality than others.  I think those who have to work from home have been physically isolated and should be considered 'heroes', too.