Exploring a systems approach to healthy ageing in India
Illustration by Josie Ford.
What lies beneath the surface of the healthy ageing iceberg in India? Promoting healthy ageing in India is complex, with a number of sectors, actors and systems in play. Several demographic, socio-economic and geographical factors impact access to resources and wellbeing. In the visual below, the CAN team would like to understand the complexity relating to healthy ageing in India, and these initial visuals start to highlight some aspects. The schematic is guided by and has explicit links to the WHO Age-friendly Cities Framework.
Who has an interest in Healthy ageing?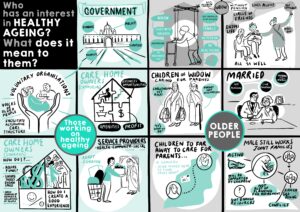 Illustration by Josie Ford.
In this schematic, the CAN team start to identify individuals and organisations involved in the healthy ageing system in India. Vignettes of older persons illustrate some of the circumstances of older people in India. Organisations and sectors and their roles within the system are highlighted.
—
Frameworks and infographics developed by:
Return to the main project page.
Share