Edinburgh neuroscientist, Arish Mudra Rakshasa-Loots has been announced as the 2023 winner of the ALBA-FKNE Diversity Prize – recognising his outstanding contributions to promoting equality and diversity in the brain sciences.
Based across the Lothian Birth Cohorts group and the Division of Psychiatry, Arish describes himself as a neuroscientist, educator and activist – committed not only to his PhD research in translational neuroscience – but also to training the next generation of conscientious, passionate scientists.
Arish's research is funded by the Wellcome Trust, with additional funding from the University of Edinburgh, the South African MRC Extramural Unit on the Genomics of Brain Disorders, and the Harold Hyam Wingate Foundation. He is also a recipient of the prestigious Thomas J. Watson Fellowship, through which he travelled to many different parts of the world to engage with HIV/AIDS healthcare and grassroots activism.
Depression amongst people living with HIV
The focus of Arish's research is the neurobiological mechanisms underlying the high prevalence of depression amongst people living with HIV. By working with participant groups in the UK, the Netherlands, and South Africa, Arish is investigating whether neuroinflammation can explain why people living with HIV face a significantly higher risk of depression. He is also interested in the development of culturally-specific translations of mental health screening tools.
"My doctoral research has been shaped by my longstanding passion for social justice and equity. I grew up in India as an openly queer person, during the years when homosexuality was still criminalised; my adolescence was thus overshadowed by the subtle but ever-present threat of violence or imprisonment. These early experiences informed my commitment to advocating for equity and inclusion in my personal and professional spheres of influence" Arish explains.
An advocate for integrating, equity and inclusion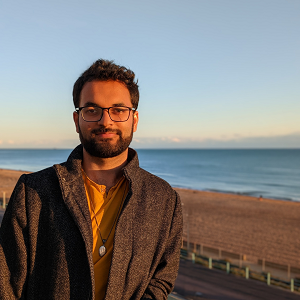 Arish's passion for social justice and equity is not just confined to his research. He has written articles highlighting the lack of gender and ethnic diversity in participant samples in his field. He has also led the design of a demographic questionnaire offering participants diverse and culturally sensitive options to self-report their sexual orientation and gender identity. In his teaching, Arish is committed to empowering others through visibility and representation and has received really positive student feedback regarding the impact of this.
On being awarded the ALBA-FKNE Diversity Prize Arish said:
"Integrating equity and inclusion advocacy in my research is more than a checkbox activity for me. It is the Sisyphean task of overcoming systematic barriers to professional development that lie ahead of me, while devising useful ways to dismantle those barriers for others to come. As a queer brown immigrant from the Global South, I am committed to creating a more inclusive culture for our researchers and research participants alike. This recognition enables me to remind other multiply-minoritised and early career researchers: you are not only welcome in neuroscience, but your lived experience and perspectives are essential to progressing this field forward.
Sadly, I could not attend the award ceremony in Portugal due to ongoing visa issues, which epitomise the systemic hurdles I've had to navigate regularly in my career. I am, however, fortunate to work with colleagues at Edinburgh and beyond who understand how the accident of birth can position one person to succeed as a scientist while placing significant obstacles in front of another. The strengths of the Edinburgh Neuroscience community lie in its diversity and collegiality. With this award, I hope to continue to inspire other young scientists at Edinburgh to pursue careers in biomedical research while being their full, authentic selves."
Find out more about the ALBA-FKNE Diversity Prize 
View Arish's University of Edinburgh profile