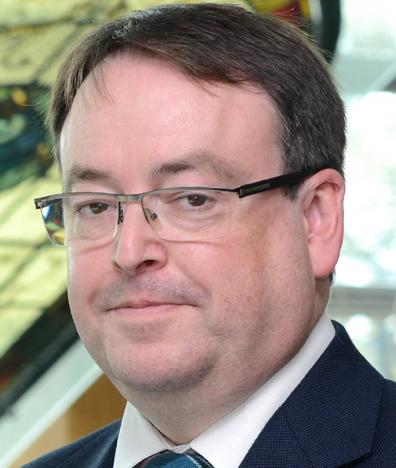 Professor David Argyle has been appointed as Vice-Principal and Head of College of Medicine and Veterinary Medicine.
Professor David Argyle is William Dick Chair of Veterinary Clinical Studies and has been Acting Head of the College of Medicine and Veterinary Medicine since January 2022, in Professor Moira Whyte's absence.
Professor Argyle is a graduate of Veterinary Medicine and Surgery and has served as a clinical academic for the Universities of Glasgow, Wisconsin-Madison and Edinburgh. He is an RCVS and European recognised specialist in veterinary oncology. He has served in multiple leadership roles in his 17 years at the University of Edinburgh and in 2011 he was appointed William Dick Chair of Veterinary Clinical Studies and Dean of Veterinary Medicine at The Royal (Dick) School of Veterinary Studies.
Over 3,000 staff work within the College and its four constituent Schools/Deaneries, with over 3,000 undergraduate and over 2,000 postgraduate students both on campus and online.
Professor Argyle will continue to be a member of the senior leadership team and will take up his position officially on 1 March 2023. He will continue in the acting Head of College role until then.
The University's Provost, Professor Kim Graham said:
"I would like to congratulate Professor David Argyle on his appointment as Vice Principal and Head of the College of Medicine and Veterinary Medicine. I am looking forward to continuing to work with David in his new role, delivering on his and your vision for the College.  
 It is an exciting time for the College, with significant development of research and innovation across all campuses, as well as investments coming on stream via the Data-Driven Innovation programme. Excellent student outcomes in Veterinary Medicine, and opportunities from new initiatives such as Student Support and Curriculum Transformation, provide an fantastic basis to broaden and further enhance student experience in both Schools.
 From my perspective, as Provost, I am delighted to have such strong academic leadership in the three Colleges, and David, Sarah, Iain and I are enjoying working together, and learning from each other. This partnership bodes well for the success of all disciplines in the University, as well as the promotion of interdisciplinary working and major cross-college initiatives.
 It has been a difficult year for the College, and I would like to thank David, as well as others who have stepped into interim leadership roles, for their contributions in 2022. I also wish to take this opportunity to thank Professor Moira Whyte for her outstanding leadership of the College, and her tireless work on behalf of the University of Edinburgh."
Professor Peter Mathieson, Principal and Vice-Chancellor added:
"Professor Argyle brings drive and ambition for the College and a commitment to the wider goals of the University. Along with other recent changes to the senior leadership team, his appointment means that we can continue to build on our success as one of the world's most distinguished universities."