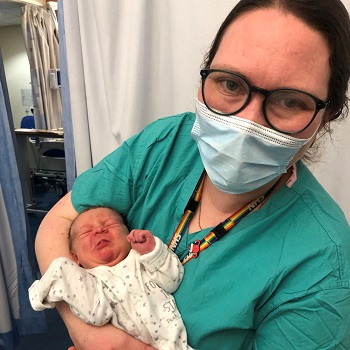 International Women's Day celebrates women's achievements, raises awareness against bias and encourages action for equality.
One of the missions of International Women's Day 2021 is 'to assist women to be in a position of power to make informed decisions about their health'. With that in mind we are shining a spotlight on some of our inspiring and incredible women colleagues working in areas of women's health whose research work and clinical practice aims to do just that.
On International Women's Day we are shining a spotlight on our incredible and inspiring women colleagues working in women's health.
Dr Rosie Townsend is a Clinical Lecturer in the MRC Centre for Reproductive Health. Her research focus is understanding how preterm birth and still birth can be predicted and possibly prevented.
Which area of women's health are you currently researching? 
I am trying to understand how we could predict and possibly prevent some of the worst complications that can occur during pregnancy – especially preterm birth and stillbirth, events that have a massive impact on families every day. By personalising the advice we offer, we can make sure the right people are offered the right intervention at the right time and avoid unnecessary interference with the incredible physiological process of healthy pregnancy.
Why is this research so important? 
During pregnancy, parents are bombarded with messages about risk and keeping themselves and their babies safe – it can be really overwhelming. Again and again I speak to people who want to understand how the headlines about caffeine intake, sleeping practices, induction of labour or giving birth in different settings apply to them as individuals.
We have seen reductions in stillbirth rates in recent years, but we are still amongst the highest in Europe and this means we can still do more to save babies lives – I believe that giving pregnant people information that is accessible and tailored to them is a key part of this process.
How can women make informed decisions about their health when it comes to pregnancy?
There are some really good sources of information available that can break down what we do know and why certain recommendations are made during pregnancy. The Royal College of Obstetricians and Gynaecologists publishes very useful patient information on their website. I would encourage all pregnant people with questions or concerns to discuss with their midwife or doctor what the benefits, risks, alternatives and likely consequences of any decision might be.