I'm a neuroscientist at the University of Edinburgh studying brain changes in Alzheimer's disease and related disorders. One of the absolute best things about being a scientist is working with many different people with unique perspectives and ways of thinking. This is essential to tackle complex scientific problems.
That's not just my opinion, there are a few studies out there indicating that papers with more diverse groups (based on nationality or ethnicity of names) are cited more often.
Sadly, in STEM subjects, we seem to be losing brilliant minds as LGBT+ scientists often experience exclusionary, harassing behaviour at work, which leads people to leave jobs in science.
See this career feature in Nature
To help make the University of Edinburgh a safe, supportive, and welcoming environment for all who self-identify as part of LGBT+ communities, I am a member of the Staff Pride Network.
Outside of work, I'm also passionate about more widely increasing LGBT+ inclusion. Growing up in rural Texas, some of my close friends could not be themselves out of fears for their safety if people found out they were gay. But we have marched and we have voted and things have improved since we were kids.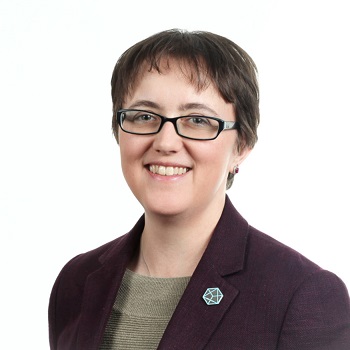 A few years ago, I went back to Texas for a weekend (a long trip for 3 days), but I HAD to be there for the wedding extravaganza of one of these amazing people I grew up with. He was legally able to marry the love of his life and they now have two beautiful babies. I hope things will continue to change and improve and we can have both a workplace and a world where everyone can be themselves.
Prof Tara Spires-Jones, Neuroscientist, LGBT+ Ally, and aspiring Glamazon