By first year medical student, Nandaja Narayanan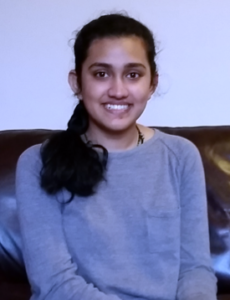 As part of Brain Awareness Week 2019, Edinburgh Medical School held an interactive performance of simulated brain surgery, featuring state-of-the-art surgical technology.
The event required organisation from many parties to make the event a success — from liaising with local schools and widening participation in S4 to S6 pupils, to communicating with groups in order to set up several stalls.
A journey through the brain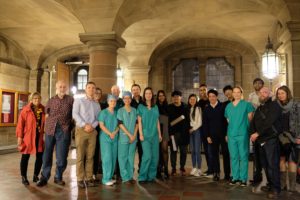 The event featured an unbelievable variety of stalls, taking the attendees on a journey through the brain's anatomy, recent research in the area, as well as the possible ways of integrating art and music with medicine.
These stalls ranged from ArtBeat (who teach anatomy using art) displaying and making clay hearts, to the SurgicalSoc stall where one could get the feel of what level of manual skills are required in laparoscopy.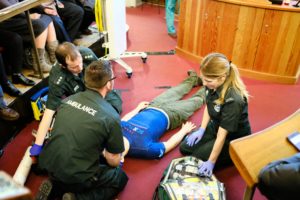 One attendee found the NeuroSoc stall especially engaging, where a couple of model skulls with craniotomies made it easier to visualise how a surgeon can gain an access to the brain without injuring its delicate structure.
Simulating brain surgery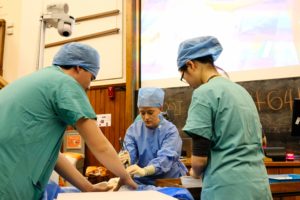 The simulated brain surgery crowned the evening. With its captivating plot and professionals from the field explaining each movement, it kept participants focused throughout the whole performance. The audience interaction via Kahoot was especially successful, one participant remarked:
By challenging myself to answer the questions I did not only have fun, but I could also really feel that I'm a part of the event.
Survivor stories
It was inspiring to listen to the story of a survivor of brain injury and his heroic efforts to return to normal functioning, thereby emphasising both the importance of human willpower and the difference a good neurosurgeon can make to a person's life.
After the event, I spoke to one of the attendees who described Simulated Neurotheatre Live as surpassing her boldest expectations and said she would definitely come again.
>>Find out more about Edinburgh Neuroscience
>>Find out more about Edinburgh University Neurological Society