Lessons from Medsimscape, a medical simulation escape room game, developed with funding from the Festival of Creative Learning.
By Lorraine Close, Clinical Skills Facilitator
Whether you're a child of the 80s who reckoned you could escape from Richard O'Brian and the Crystal Maze (applications are now open for the 2019 version- just ask Vicki in the skills team) or you are a millennial frequent attender of one of the city's many escape rooms games, the challenge of finding your way out of a locked space is a guaranteed way to get people engaged in problem solving skills and team working dynamics that involve decision making, clear communication skills and leadership.
The skills required for health care professionals to work effectively as a team are similar. There has been much focus on the teaching of non-technical skills in undergraduate and postgraduate nursing and medical education, often in high fidelity simulation facilities.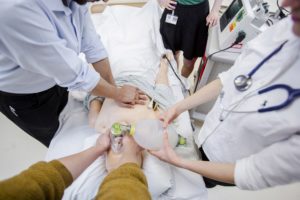 One of the challenges of this type of education is the need for prerequisite medical knowledge in order to participate in a meaningful way.
As part of our programme of inter-professional education in the medical and nursing school, we wanted to introduce a non-threatening session for medical and nursing students in junior clinical years that would introduce them to the simulation environment, and basic non-technical skills.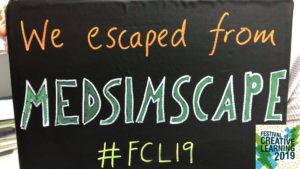 Based on previous work by Anthony Seto from Calgary Medical School, and with his permission granted, we successfully applied for funding from the Festival of Creative Learning to run 'Medsimscape'; a day of inter-professional education for nurses, doctors and undergraduate health care professionals.
On the day, 20 undergraduate medical and nursing students, qualified nurses and doctors and colleagues from the skills team and nursing school gathered in the Clinical Skills Centre.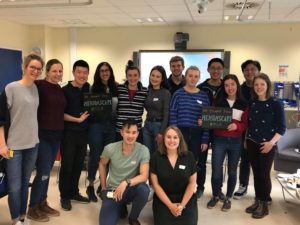 We ran the group through our own escape room game as an ice-breaker activity and then split into two teams tasked to design a new escape room game based in our simulation ward. The medical focus was intentionally kept basic but offered some opportunity for learning. Each group played the others' game while the game designers watched live on camera. The stakes were high and competition was fierce!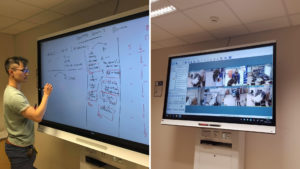 Consensus was that the day was a huge success, and there is real potential in this type of activity as a fun and engaging introduction to medical simulation. Key take home messages were:
1. Escape room games are a safe and fun way to learn without nurses feeling intimidated by doctors and vice versa.
2. Fun is the best way to learn (verbatim from a medical student)
3. Students felt they learnt a lot about medical conditions and team working by designing the games, as well as taking part in them.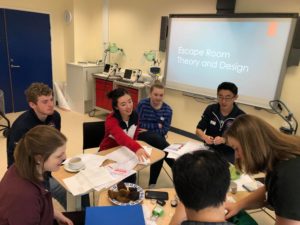 We hope to run a follow-up workshop to discuss the next steps in developing this session which could be an exciting addition to our current inter-professional simulation programme that runs throughout the undergraduate curriculum of both nursing and medical students.
With thanks to the Festival of Creative Learning for their generous funding of this event, and all students and clinical staff who took time out to attend the day.
>>Visit the Medical Education web pages
>>Learn more about the Festival of Creative Learning