COMMONS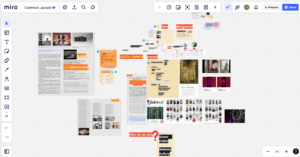 Through the handbook I was thinking that the commons and the barcamp on the open learning class are similar because they both advocate sharing and interaction. But I found there are fundamental differences between the commons and the barcamp. Mature and completed artworks or activities are provided in the commons, where participants can have access to various works and experiences in one theme. Sounds like participants watch an exhibition at a gallery and the gallery is a kind of commons. But the barcamp is an educational place, which means it displays kinds of learning methods and anyone can join the barcamp to learn and experience. So that is to say, participants in common need educational background or the ability to analyze and think indecently. It is more professional than barcamp.
Our basho were talking about shared library 7/24 at first. This form is available in some cities in China and we found it feasible to manage. This shared and opening library also takes the social responsibility to serve free shelter. Some members in our basho pointed out that if we also see this opening library as a kind of social assistance, it would be less associated with art. Therefore, we considered the type of books in the opening library. One of our members interviewed the drag queen before and we have some resources on queer issue so we decided to construct our commons about queer. But if we just use a 7/24 opening library as a common to convey our ideas, hoping to reduce some stereotypes about queer, only serving books makes less sense. Because opening libraries are small, where people can read or just be away from the reality for a while, curing their spiritual loneliness, but there are obvious limitations in conveying queer theory and queer works. At the end of our discussion, we decided our topic. The context or condition we should base on is a point even a barrier. Beth suggested us that we should be very careful because none of us is queer, we have less position to discuss or construct queer common especially for people in the UK. Considering that we are all Chinese and queer culture is developing not smoothly and the public still have many understandings so we plan to collect resources in China and construct our common for them.
How to run this common confuses us. We are not leaders in this common and we aim to provide a medium, a shared space for the queer artists and audience to have a communication. We hope we can build a bridge between queer identification and queer recognition. So we decided to hold an exhibition where artists can display their artworks and the audience can watch and interact with artworks.
 We create this form inspired by an exhibition from a Chinese curator, JIANG SIDA. https://xmuseum.org/portal/exhibitions/6 He curated this exhibition, <X Museum>, to explore the boundaries between our personal and public space in the Post-Internet era. It was an interactive exhibition and the invited audience who dressed as "queen" in different identities can meet, date even have sex, using this method to discuss who they are, what they do and what they can do. Inspired by this exhibition, we planned to construct a collecting space both digitally and physically. We would like to collect and display artworks on the website and in the gallery. Because some queer artists and audience may have little will to meet people face to face or they are willing to be mysterious to protect themselves, displaying and watching artworks on the Internet is an opening and suitable way for them. What's more, via the Internet more audience and artists can have access to this exhibition.
The theme of our queer common is "Introduce and Reduce". Queer artists introduce themselves via their artworks and audience get in touch with queer theory and queer definition through works and interaction. We hope queer artists bring various artworks to introduce who they are. We hope audience can reduce some stereotypes or misunderstandings on queer after they join this common.
In our preparation process, I read some statistics essays on queer research in China, especially mainland and Hong Kong. I found that queer people are facing not only violence, and ignorance, but also worried about their living when they are old. It is harder to have an identification than live a normal life. "Notably, this clarification only occurred after a gay widower filed for a judicial review over the Hong Kong government's refusal to let him identify his late spouse's (married in another jurisdiction) body or attend to administrative arrangements without having authorization from his spouse's mother."(Iris Po Yee Lo, Emma H. Liu, Daniel W. L. Lai & Elsie Yan (2022) Reflexive Planning for Later Life: Minority Stress and Aging Challenges among Midlife Chinese Lesbians and Gay Men, Journal of Homosexuality, DOI: 10.1080/00918369.2022.2095242) This means that there is a long way to fight for the legal policy on homosexuality and on queer, not only the gay marriage law, but also healthcare and inheritance rights and so on.
There was an accident in the process. Our ppt lost some texts before the presentation so I, the spokesperson, had to introduce our queer common in language only. Thank god that one of our members record all our resources on MIRO in order so that I could show our context comprehensively. This accident taught me that when managing multi-members' work, a back-up copy is really important. Just as the Chinese old saying goes: " Don't put all eggs into one box." Spreading the risks around is a credible choice.