The third workshop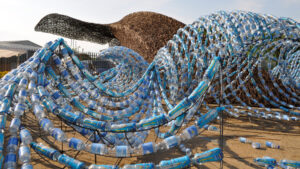 The aim of this workshop is to collect some plastic bottles and plan and devise a way of upcycling them into something else. At first I walked around the house and pondered whether there didn't seem to be too many things that were plastic or empty. But after circling around I soon realised there was too much plastic in the house. Rubbish bags, skincare products, finished drink cans and plastic packaging are all plastic products that are consumed without a second thought. So in the process of preparing the plastic bottles, even before the workshop I was already aware of the uncontrolled amount of plastic I normally use.
This workshop reminds me of lots of installations that artists made out of plastic wastes. Often made to look like sea creatures, they are a thought-provoking reflection on the impact of human-made plastic waste on the planet. But I can't help wondering what to do with these large installations once they've been exhibited outside. They will still be made of plastic, so without the purpose of educating the public, they will still become plastic waste and pollute the environment.
At the very least it serves an educational purpose, and it is hoped that these installations will make people aware of how much plastic they use in their lives without even thinking about it, so that they can consciously reduce their use.