The church of St Moritz has been through many changes since its foundation nearly a thousand years ago. Devastating fires, changes in liturgical practice, aesthetic evolution and wartime bombing have each left their mark on the fabric of the building. The purpose of this latest intervention has been to retune the existing architecture, from aesthetic, functional and liturgical perspectives, with considerations of sacred atmosphere always at the heart of the project.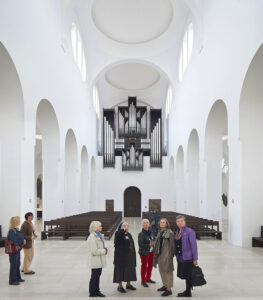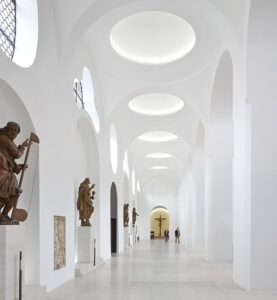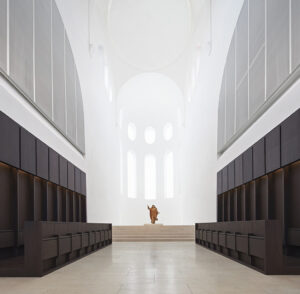 The work has involved the meticulous paring away of selected elements of the church's complex fabric and the relocation of certain artefacts, to achieve a clearer visual field. Drawing on existing forms and elements of vocabulary, an architectural language has evolved that is recognisable in subtle ways as something new, yet has no jarring foreign elements.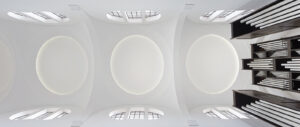 St Moritz is laid out according to the clear linear principles of a Wegekirche and this spatial character, with its strong forward focus on the apse, is retained and reinforced in the current re-ordering, with the eye purposefully drawn through the nave to the apse, which is designed as a room of light, heralded by the Baroque sculptor Georg Petel's figure of Christus Salvator.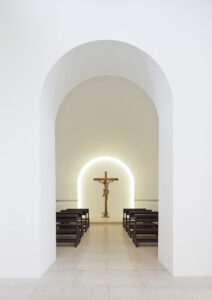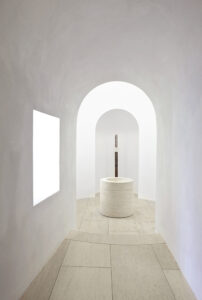 A key gesture of the intervention is the quiet transformation of the apse windows, which must function architecturally as a source of light and liturgically as an expression of the threshold to transcendence. The existing glass is replaced with thin slices of onyx. The effect of this is to generate the optimum light conditions, screening out direct sunlight and bathing the space in a haze of diffused luminescence.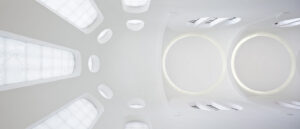 The treatment of the apse windows represents the culmination of a wider strategy for light, whose aim is to achieve a clear distribution of light, with the apse as the brightest area in the church. After the apse, the area of the nave where the liturgy is performed is brightest, whilst the side-aisles revert to more subdued light conditions. The Baroque clerestory windows, relieved of their former function of illuminating the artwork and decoration, now serve as indirect sources of light.
The space is flooded in light, an element that I think is often lost in places of worship despite the tall ceilings and expanding windows. The architect of this project took the framework of the building into consideration and used it to its advantage. Churches have a common characteristic of feeling and being quite dark as it allows it to feel more private and as a place of sanctuary. however, inviting light in and making the space feel more airy, bright and etheral gives the space a grandeur effect. it feels less claustrophobic, and more welcoming than the average church.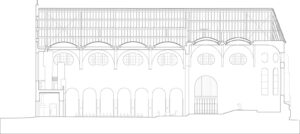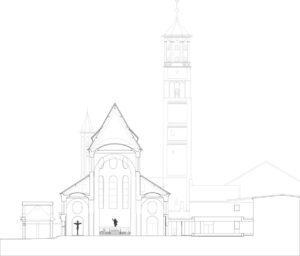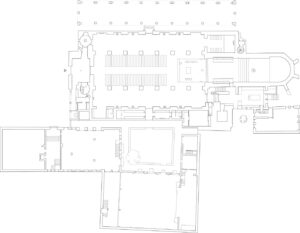 https://www.archdaily.com/456312/interior-remodelling-st-moritz-church-john-pawson?ad_medium=gallery