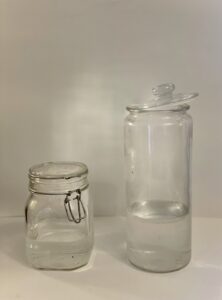 This is the final image for this Project. This work is farrrr from being finished quite clearly as I haven't done a lot of doing, despite a fair bit of thinking. I think there are many branches I could go to and explore with developing this further and I will continue it on into the next part of this project.
Capturing snow rather than rain was important as much like the people who go to see a Richard Wright in person, I knew that the snow was not going to last and that it would soon be gone, leaving me with a feeling of loss. capturing it in a the jar was a way of controlling and eradicating the feeling of hindsight and/or capturing ephemerality.
Having the jars ajar is something I done intentionally as I enjoy subtle humour (if you can call it that) in my work, but I like it more because it is relevant to the story telling of the piece.
I like how conceptual this project is turning out to be as I don't normally go down that route but I am really enjoying connecting the dots throughout and upon reflection.