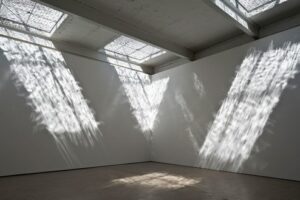 Site specific/ intervention

 

Memory & ephemerality
Short lived

 

Works on already existing elements
White space
My Thoughts:
I like the idea of when going to see a piece by Richard Wright, you know that you are never going to see it again as they are often temporary, much like the subject matter and materials used.
This to me eradicates hindsight, as you often don't realise at the time, in everyday situations, when the last time you will see something or someone. so to know that ahead of time is very powerful to me.
If I knew my jewellery was going to get stolen I would have closed the window. If I knew at the time it was going to be the last time i'd see my grandmothers earrings, I would have always kept them in a safe place. – Hindsight –
Wright also works directly onto site specific surfaces, which draws attention to the existing space rather than reinventing. This is something I would like to do as dealing with the subject matter of loss, it feels inappropriate to create something, adding something physical to the space.