Blog 4 – Exploring Shadows through Sunlight tracing and Sunpaths
Blog 4 – Exploring Shadows through Sunlight tracing and Sunpaths
In this class, we explored shadows, how they are created and what they tell us. Through different forms of experimentation, I found the different exercises useful in teaching me how we can tell the time of the year through a shadow and vice versa using a sundial chart. I never realised how specific the result could be and so I found it very fascinating. The image to the left shows us exploring how placing the phone torch at different angles would give us a different result as to what time of day and year it was. We learned that this is used as a justification method towards people buying houses to ensure they know their house will not be overshadowed by another structure. Although this method is usually performed on a bigger scale than the one seen in the photo.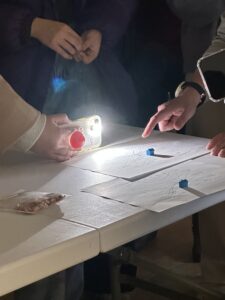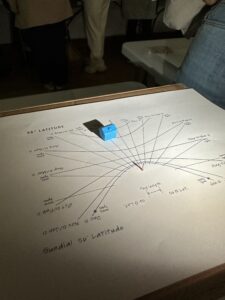 IMG_5396 This is a video to further explain how the sun path and shadows can be predicted
For the Next part of the class, we looked at stereographical charts, which are charts used to calculate the angle of the sun at specific times and months of the year. This was another interesting sunlight calculation. Prior to this class, I was not even aware that this was possible so it proved useful and extremely interesting.
Now that we had developed a good understanding of sunlight tracing and sunpaths, it was time to explore shadows inside spaces and how they could be manipulated using different angles, shapes and colours. For this exercise we were tasked in groups to use a box that we had brought with us to class, to cut holes in it and shine light through the holes to see the different shadows that would be cast at different angles. We even inserted mini-human silhouettes to make it a more realistic feeling in box to show how even humans can cast shadows within the space.