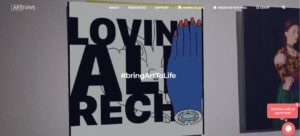 'Artivive is
The Augmented Reality Platform For Art
This new technology allows artists to create new dimensions of art by linking classical with digital art. The digital layer opens the doors to a whole new world of possibilities. Artists can take visitors on a journey in time and explain what lies behind, enhance the artwork or tell a story. This new world can be unlocked by any smartphone or tablet and offer an extended and emotional experience.
Our solution consists of two parts:
the Artivive app – the visualisation tool
the creational tool called bridge – where you can create the digital layer
Please feel free to join our fast growing community and register for an account which best suits your needs..'
I think I can used this in my work. I can connect the 3D scanned net to a 2D image that can then be displayed through an app. I may want to consider making some 2d work.