As the void is much more impressive I have been looking into floor construction as well as beam construction methods that would support the void (where there used to be columns) as well as a large glass curtain wall which will span the full height of the space.
Because the void is curved I have looked into creating a beam structure that follows the curve of the edge, onto which will be a a solid concrete floor with stone surface material. As the building is huge however I have also looked into floor insulation, to hopefully minimise heat loss.
The main focus of my detail however vill be the glass structure, its assembly and how it is supported to span the width of the void, in particular at the floor and ceiling, as well as how it connects to the columns, and glass fins.
I have created a sew sketches to help me visualise the detail before I attempt its drawing and later model construction.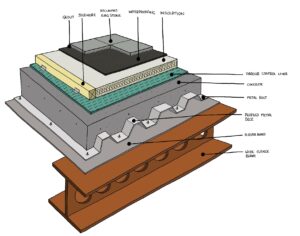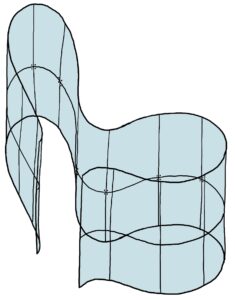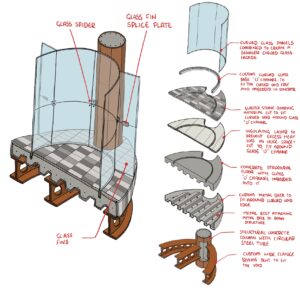 As well  as the detail I looked in depth at materiality for my main space. Unlike other projects my scheme will focus more on the interior interventions than materiality. The materials I am looking at however will compliment the scale of the space and the interventions made. I want to focus on the use of local stone to reflect the natural materials used in classical architecture as this will fit my designs narrative. I also want to use concrete, reflecting the concrete of the existing structure, with steel to reflect the modern and industrial nature of the building. The main focus however will be the copper of the brewing stills which will be visible through the class curtain wall. The simple use of stone, concrete, steel and glass will therefore emphasise the bright colour of the copper and emphasise it within the space.