The Unconscious Normatives of the 'OUT'doors
The Unconscious Normatives of the 'OUT'doors
An autoethnography uncovering unconscious biases through gender and sexuality.
I invite you to begin by engaging with this visualisation…
(https://youtu.be/fxEhPeGCxwU).
I identify as a white, cis-gendered, able-bodied, lesbian, woman.  In the outdoor western world, an English speaking, white, able-bodied dominant environment I have privilege and power – I can physically access and be welcomed to the outdoors, I can be 'comfortable'.  The 'normatives' of the outdoors, however, has often left me feeling uncomfortable, fearful, and in limbo – stuck not knowing where I belong or what the expectations of 'how to behave' are.  I have not felt welcomed or accepted, I have barely felt tolerated.  I have felt expectations and endured behaviours to 'conform' to those normatives.  This has led to thoughts of 'leaving' the outdoor profession.
I am not alone in this feeling.
My study explored my personal experiences of normativity and how social conditioning has influenced unconscious biases and the implications this may have.  It led me to question the 'social tolerance' and acceptance in the outdoors, the normatives of the outdoor sector, and the possible implications of intersecting identities.
When I mentioned that I was looking to do my dissertation on intersectionality, specifically sexuality and gender, several people said potentially very influential comments like "Are you sure it won't ruin your career?"
Why would it ruin my career?  Had I not thought this through?  What had prompted people to think or believe that by researching the intersectionality of gender and sexuality my career could be ruined?  Were unconscious biases at work here?
My literature review revealed a significant lack of research, particularly for LGBTQ+ identities in the outdoors.  The increasing awareness of different identities and lack of equality, diversity and inclusivity within our field demonstrated a need for this to be discussed and more research to be done (Barnfield & Humberstone, 2007). I was privileged to be able to do it and I needed to consider the implications, but what would the implications be if I didn't do it?
Choosing autoethnography led my learning journey along an unexpected path through what I termed "The Mind-field of Autoethnography" (Duffy, 2020).  The evoking of emotions and analysis of thoughts in self and others were explosive at times, 'detonated' for some but not others.  It was uncomfortable and scary, a potentially dangerous path to navigate.  The criticisms of autoethnography prompted a much deeper reflexivity than I expected, and it forced me to question whose stories are heard and told, and perhaps why I felt the way I did about certain topics.
The fluid complexities of our own "experience is a multi-layered phenomenon" (Fox, 2008, p. 41); our perceptions, external interactions and observations, internal beliefs, values, and feelings are all interpreted to generate (construct) our own morals, reality, and beliefs about society and the world.
I invite you to listen to this campfire story…
(https://youtu.be/-SvkvetZfaw).
The cultural context created by those in positions of power and privilege potentially influences, maybe even manipulates, whose stories are told and heard, whilst the disadvantaged, the vulnerable and the impressionable are silenced and unheard. (Hill Collins & Bilge, 2016).  Our interactions with others contribute to the creation of normatives and social expectations to conform to.  This feeds the unconscious biases which contribute to our behaviours, impacting on others, giving some positions of power and influence.  Unconscious or "implicit bias is the unconscious attribution we ascribe to an individual or group based on past experiences. (Rivers, Sherman, Rees, Reichardt, & Klauer, 2018 as cited by Breunig, 2019, p. 12). Without being aware of this and bringing them to the conscious, we may be behaving in a manner that perpetuates 'normativity', potentially giving a voice to some whilst silencing others or ourselves.
I was intrigued by the idea of creating 'brave spaces' rather than 'safe spaces' (Breunig, 2019).  My own experiences demonstrated the challenges of creating spaces where I (and others) could truly feel protected from physical, emotional, psychological, and social harm, danger, or risk, regardless of attitude or intention. To create brave spaces, though, suggested a space where 'the uncomfortable' and 'fear' were acknowledged, embraced, and even celebrated as a positive – something we can learn from; this concept encouraged me to continue my journey. There is a much deeper complexity here, when one is privileged to be in a safe space (even unknowingly) it is perhaps easier to be brave.
I began to recognise the importance and need for understanding the part 'normalisation' plays.   To me 'normalising' is perhaps not the answer.  When we manage to normalise something, we potentially create that safe space.  Affinity groups enable people to express, share and process their feelings and experiences of oppression, discrimination, and prejudice, to recognise they are not alone, and to search for solutions in tackling those shared issues (see Allen-Craig et al., 2020; Fenton, 2018; Mitten, 2018; Rogers & Rose, 2019).  Exploring affinity and confirmation bias revealed strong, positive feelings of inclusivity, but it also developed my awareness of possible separatist behaviour and attitudes.  Without differing and difficult conversations and perspectives we are perhaps not bringing our own biases to the conscious or challenging our beliefs.  Without facilitating unconscious bias discussions, we may inadvertently perpetuate and reaffirm our own biases and prejudices.
We should ask ourselves why do those spaces feel 'safe' and others do not?  Why are some able to be 'brave' whilst others cannot?
As facilitators we often utilise ice breakers to create those spaces and to find commonality and familiarity, we need to consider that this may set up division and a separatist environment.  By only encouraging to find familiarity we may unconsciously be building barriers, avoiding, or silencing that we are different, and feeding the idea that having differences is something negative and uncomfortable.  But perhaps we need to be encouraging participants to seek difference?  To find something new.  By talking openly about differences and learning to nurture those differences, perhaps we can cultivate an environment where difference isn't something to fear?  A space to be brave about our differences.
I welcome and encourage others to explore and discuss their unconscious biases.  Yes, to be brave.
Reflect back on the visualisation you did at the start – recognise and realise your unconscious biases, verbalise and theorise ways to expand your 'normative world' and knowledge, perhaps then together we can actualise a more Inclusive Outdoors.
References:
Allen-Craig, S., Gray, T., Charles, R., Socha, T., Cosgriff, M., Mitten, D., & Loeffler, T. A. (2020). Together We Have Impact: Exploring Gendered Experiences in Outdoor Leadership. Journal of Outdoor Recreation, Education, and Leadership, 12(1), 121-139.
Barnfield, D. & Humberstone, B. (2008) Speaking out: perspectives of gay and lesbian practitioners in outdoor education in the UK, Journal of Adventure Education & Outdoor Learning, 8:1, 31-42.
Breunig, M. (2019). Beings Who Are Becoming: Enhancing Social Justice Literacy. Journal of Experiential Education, 42(1), 7-21.
Duffy, A. (2020). The Unconscious Normatives of the 'OUT'doors: An autoethnography uncovering unconscious biases through gender and sexuality.  Dissertation paper submitted in Partial Fulfilment of the Requirements for the Master of Science Degree in Outdoor Education November 2020.  Moray House School of Education and Sport: The University of Edinburgh.
Fenton, L. (2018). 'You can see their minds grow': Identity development of LGBTQ youth at a residential wilderness camp. Leisure/Loisir, 42(3), 347-361.
Fox, K. (2008). Rethinking Experience: What Do We Mean by This Word "Experience"? Journal of Experiential Education, 31(1), 36-54.
Hill Collins, P. & Bilge, S., (2016). Intersectionality, Cambridge, UK: Polity Press.
Mitten, D. (2018). Let's Meet at the Picnic Table at Midnight. In Gray, T., & Mitten, D. (eds). The Palgrave International Handbook of Women and Outdoor Learning (1st ed. 2018.. ed., Palgrave Studies in Gender and Education). pp. 19 – 34. Cham: Springer International Publishing : Imprint: Palgrave Macmillan.
Rogers, E. & Rose, J (2019). Warren, K (Editor). A Critical Exploration of Women's Gendered Experiences in Outdoor Leadership. Journal of Experiential Education, 42(1), 37-50.
Author: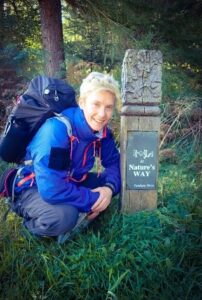 Anouska Duffy (She / Her)
Anouska Duffy has recently finished the MSc in Outdoor Education at The University of Edinburgh.  She applied for the course having previously worked in Outdoor Education and Youth Development.  Anouska (also known as Noush) has always had a passion for enabling learning and utilises the outdoors in a variety of ways to facilitate this.  She served as a Police Officer for ten years prior to changing her career, is a qualified First Aid and Mental Health First Aid Instructor and holds several National Governing Board awards, including the Mountain Leader award.  Anouska aims to continue her learning journey, guiding and enabling others on their own learning journeys, and embracing the sharing of those experiences.
You can follow her on LinkedIn, Twitter, Instagram, and Facebook @noushoutdoors. Or you can email her noushoutdoors@hotmail.com