A continuation of my inquiries into gender
A continuation of my inquiries into gender
My personal life experiences inform the vast majority of my academic interests. I can't deny that they are occasionally a quest for how other people's life experiences are similar to or different from mine. As an Indian heterosexual cis-gender middle-class backward caste woman, it should come as no surprise that all of my research projects during my studies focus on gender. Gendered experiences and the subsequent introspective cognitive process are inextricably connected in my life at the moment. It would be a privilege if you didn't have to go through this process on a daily basis.
The starting point
I knew I'd end up with gender as the core of my research when, as a program, we started getting input on research. I had no idea I'd get so engrossed in my research interests; that I'd wake up in the middle of the night to jot down notes. I awoke at midnight to jot down the following on my phone.
"How did the outdoors help people define their identity? How did it help them identify who they are? "Did it play any role in the development of self?"  (Anambalam Velayudhan, 2022).
My research quest began that night. I knew I wanted to learn how people assigned female at birth feel about gender dynamics in the outdoors. As much as the literature was helpful to me, it was the discussions I had with fellow students and center faculty that enabled me to further develop my research.
The process
As a person who is fascinated by what others say and how they convey it, nothing beats hearing about people's real-life experiences told through narratives. So narrative inquiry was something I clung to from the start. I was also interested in understanding how people assigned female at birth came together to support one another; consequently, I chose focused group discussion as my method of inquiry. While researching intersectionality, which is at the heart of my study, I came across the term "interconnectivity" and chose to include it in my work. The study sought to answer concerns such as,
"What are the factors at work in the outdoors that influence the experience(s) of people assigned female at birth?" And how do these elements interact with one another? "Do these things have any impact on self-development?" (Anambalam Velayudhan, 2022).
The plan was to bring together a small group of individuals who were assigned female at birth to talk about their interconnected experiences with gender in the outdoors while exploring the above-mentioned concerns. As part of the focused group discussion, I also worked on incorporating visual data. This resulted in an outstanding body of work by the participants.
Image 2: Neha's (name changed) illustration of her childhood memories in the outdoors
The turning point
I was able to delve into the participants' early experiences, their journey(s) in the outdoors, and their interconnected identity/ies. Interconnectivity, gendered experiences, identity and self were the core themes of this research. The illustrations were generated by participants in response to the themes.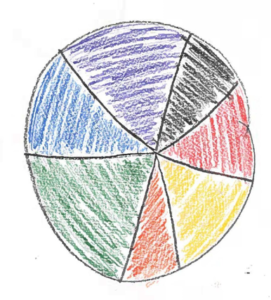 Image 1: Ida's (name changed) representation of her interconnected identity  (Anambalam Velayudhan, 2022)
The subject of 'menstruation as a cultural risk' was very intriguing and unexpected during the discussion on cultural risks in the outdoors. It is worth mentioning that all participants felt that a lack of understanding about menstruation and menstrual hygiene in outdoor settings is a cultural risk that must be addressed. When menstruation is a part of half of the population's daily life and that same group is at risk of health problems, it's worthwhile to look at menstruation from that perspective. (if you are interested in learning more about menstruation in the outdoors – read Morgan Ludington's blog – The Wild Period).
Reference
Anambalam Velayudhan, R. (2022). Interconnected Gendered Self In The Outdoors: An Exploratory Study On The Development Of Self And Identity With People Assigned Female At Birth (Unpublished master's dissertation). University of Edinburgh, Edinburgh, Scotland.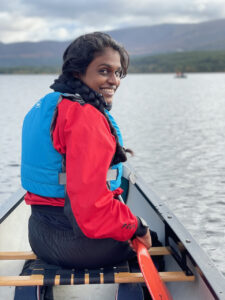 Rajeswari began her educational journey as a social work student in India, and her areas of interest include mental health, gender, and children. She previously worked as an Education Specialist for a private organisation in rural schools in South India. After graduating from the MSc Outdoor Education Programme, she now works at a residential social care school for looked-after children, in Edinburgh. For additional information, please contact Rajeswari at rajeswariav96@gmail.com.