Siobhan O'Connor appointed as an Associate Editor with the International Journal of Older People Nursing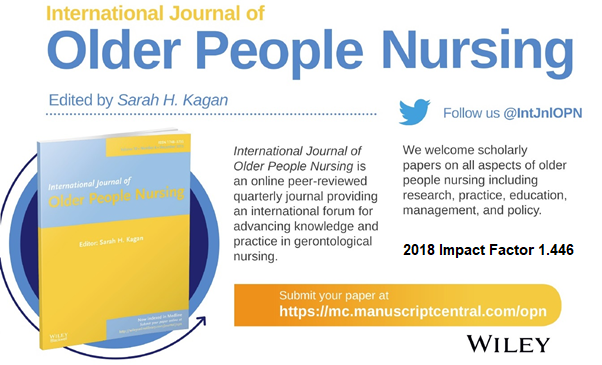 Siobhan O'Connor, a Lecturer in Nursing Studies, will be joining the editorial team at the International Journal of Older People Nursing (IJOPN), one of the top ranked gerontological nursing journals.
Under the direction of Editor-in-Chief, Professor Sarah H. Kagan at the University of Pennsylvania School Of Nursing, this peer-reviewed journal provides an international forum for advancing knowledge and practice in gerontological nursing. Since its establishment in 2006, this innovative journal has seen its impact factor rise each year to 1.446 in 2018, as it helps inform key debates about health and social care for older people worldwide.
International Journal of Older People Nursing
Given Siobhan's multidisciplinary background in both nursing and informatics, her addition to the IJOPN editorial team as an Associate Editor is timely, as the journal provides critical analysis on the challenges and opportunities facing older people globally and the nurses who work with them. Joining Professor Kagan and Professor G.J. Melendez-Torres, of the University of Exeter, from January 2020, Siobhan will assist in managing the peer-review process and selecting high-quality scientific articles for publication. She aims, along with the other members of the editorial team, to ensure the work published in IJOPN positively influences the global nursing research community, the broader gerontological scientific community, and ultimately care for older people, their families, and communities around the world.
Professor Kagan comments:
We are truly delighted that Siobhan is joining the editorial team as Associate, Editor, entering this role with her fine service to IJOPN as one of our Social Media Editors and as a strong peer reviewer. Siobhan has a long editorial career ahead of her and I'm personally very pleased that IJOPN is the journal in which she's invested. Together, G.J., Siobhan, and I hope to measurably advance the gerontological nursing literature through what we publish in IJOPN.
Share