Neurodiversity and Narrative Fiction
Neurodiversity and Narrative Fiction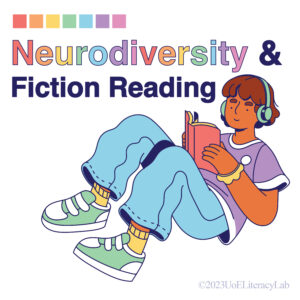 2022-2023
Stories often reflect the social world we live in, and can enrich our understanding of ourselves and others.  Adolescence is a period of life characterised by exploration of identity and discovery of self; books offer opportunities for young people to explore personally meaningful content.
Research focusing on inclusive representation in young people's literature has focused almost entirely on racial and ethnic representation. This study will be the first to provide detailed insight into neurodivergent young people's perceptions of how their lives and experiences are represented in narrative fiction (and other text types), with neurodivergent young people informing our research process.
Project Aims:
To understand the scale and breadth of representation of neurodivergent young people in fictional texts for secondary school readers.
To understand neurodivergent young people's opinions and experiences of representation of neurodivergence in narrative fiction.
You can access the preregistration for this project, here: https://osf.io/b4cfh
This project is funded by a University of Edinburgh Challenge Investment Fund. To learn more about the project you can contact Sarah McGeown: s.mcgeown@ed.ac.uk
Project Team:
Project Lead: Dr Sarah McGeown
Project Researchers: Elena Santi and Charlotte Webber
Co-investigators: Dr Katie Cebula, Dr Catherine Crompton and Professor Sue Fletcher-Watson
Project Partners:
Christina Clark, National Literacy Trust
Ruthann Hughes, BookTrust
Katie Juckes, Teacher
Lucy Juckes, Barrington Stoke
Eadaoin Lynch, Scottish Book Trust
Emily Weston, Teacher
Victoria Williamson, Author