Move and Read
2022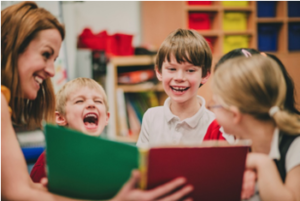 This project aims to support primary school teachers' professional learning and increase their engagement in research, through a project which deepens teachers' research knowledge of early literacy development (led by McGeown), the benefits of physical activity (led by Booth) and the value of embodied cognition (led by Ghazali-Mohammed).  Primary school teachers from P1 classrooms will work in collaboration with the research team to co-design activities to support children's early literacy development, in ways which are physically active, yet meaningful.  This activities will then be implemented and evaluated by teachers.
This project was funded by an ESRC Impact Acceleration Account grant from the University of Edinburgh.  To learn more about this project, please contact Dr Josie Booth: Josie.Booth@ed.ac.uk
Project Team:
Principal Investigator: Dr Josie Booth, University of Edinburgh
Co-Investigators: Dr Zayba Ghazali-Mohammed and Dr Sarah McGeown
External Partner: City of Edinburgh Council.
Getty Images