Love to Read: Reception
2023 – 2024
In the earliest stages of learning to read, it is essential that children are not only taught the necessary skills to become independent readers, but that they also develop a love and interest in books and reading, and choose to read (both independently and with others) outside of school.
This project aims to create a reading for pleasure programme for reception year children in England.   It will focus on fostering reading enjoyment (positive attitudes towards books and reading), skills (to self-select books they will enjoy) and behaviour (volitional independent and shared reading).
It aims to develop teachers' depth of research knowledge in this area, embedding this within the context of pedagogical practices to support children's reading attitudes, skills and behaviours.  Furthermore, resources to support and facilitate home-school connections will also be created.
This project is fu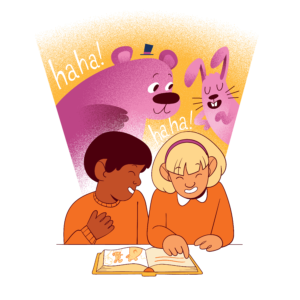 nded by Education Endowment Foundation. 
To learn more, you can contact Sarah: s.mcgeown@ed.ac.uk
Principal Investigator: Dr Jamie Lingwood, Liverpool Hope University
Co-Investigator: Dr Sarah McGeown, University of Edinburgh
Project Partners: Dr Christina Clark (Director of Research), National Literacy Trust