グループ6一年生の学園祭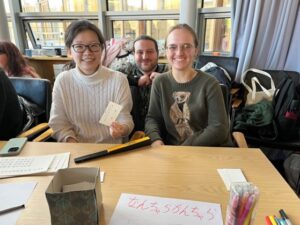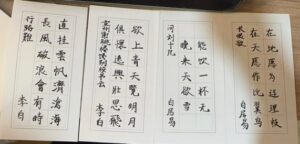 学園祭の準備として、私たちは日本からの交換留学生にインタビューを行い、日本の大学の学園祭や日本文化の保存に対する彼らの考えについてさらに詳しく知りました。 
話し合いの結果、私たちのグループはフェイスペイントをしてと「偽の」神社を建てることにしました。私たちはまず、日本の神社や寺院で行われる日本の占い方法であるおみくじについて調査しました。できるだけリアルに、おみくじを大吉、吉、中吉、小吉、末吉、凶、大凶次のように分類することにしました。  
おみくじは、その人の希望が叶う可能性、良縁を見つける可能性、あるいは一般的には健康、幸運、人生などのことを予測します。だからあらゆる種類のことを占う特別なおみくを置きました。中国や日本の詩人の詩もあります。この特別なくじを引いた人はそれを持ち帰ることができます。 
他のグループの内容もとても面白いでした。ドアの近くのグループは弓道チャレンジでした。 成功のために全身のバランスと絶妙なコントロールが必要でした、だからあれはとても難しいでした。その次はゲーム部、ブラックジャックとマリオカートができて大人気がある場所でした。クイズをしてるグループも日本と関係ある質問がたくさん準備しました。音楽と歴史の質問もありました。日本地図クイズの商品はなんと手作りケーキでした。美味しそう!最後はチェス対戦、脳細胞を鍛錬できるいいチャンスでした。素晴らしい活動でしたね! 
This year's Gakuensai is very exciting, for preparation for the Gakuensai, we did interviews with exchange students from Japan and get to know a lot more about Gakunensai in Japanese Universities and what they think of preserving Japanese culture.  
After discussion, our group decided on doing face paint and set up a "fake" shrine. We first did some investigation on omikuji, which is a Japanese way of fortune telling, mostly in Japanese shrines and temples. In order to make our omikuji be as real as possible, we presented with Great blessing, Blessing, Middle Blessing, Small Blessing, Future blessing, Misfortune and Very Misfortune.  
The omikuji predicts the person's chances of their hopes coming true, of finding a good match, or generally matters of health, fortune, life, etc. So we put some special Omikuji on all kinds of things it could predicts with Chinese or Japanese poems indicate there blessing, also the people who draw these special omikuji, can take them away.   
The content of the other groups was also very interesting. The group near the door was the Kyudo Challenge. The balance and exquisite control of one's whole body were needed to hit the target, so it was very difficult. The next was the game club where we could play Blackjack and Mario Kart. Many schoolmates would like stay here for a while. The quiz groups also prepared a lot of questions related to Japan. There were also questions about music and history. The reward of the group of the Japan map quiz was a homemade cake. Looks delicious! At the end, it was a good chance to train one's brain cells if he or she participated in the game associated by the chess group. It was a very diversified activity!