In Punjab, on the covers of various Naxalite periodicals, we can see the tenth Sikh Guru, Guru Gobind Singh. Over other Sikh Gurus, Guru Gobind Singh is seen as the main icon of resistance, opposing the force of oppression represented by the icons of present revolutionaries. These intersections of revolutionary figures from different contexts have been represented by juxtaposing images of Sikh religiosity and history with contemporary struggles, creating overlaps of past and present, symbolically combining the modes of resilience from history with those of the present day. This combining of images could be seen on the cover of the Naxalite magazine, Rohle Baan (Raging Arrows), 1973 issue with the photo of Dr. George Habash, a Palestinian Christian politician who founded the left-wing secular nationalist Popular Front for the Liberation of Palestine (PFLP). Also described as a leader of guerrilla war against Israeli occupation, Habash is pictured with Guru Gobind Singh writing a script. It has been suggested that Guru is writing the Persian verse, Zafarnama (Epistle of Victory), which was historically addressed to the Mughal emperor, Aurangzeb, with the famous lines Chirion se main baaz turaun, Tabe Gobind Singh naam kahaun (It is when I make sparrows fight hawks that I am called Gobind Singh).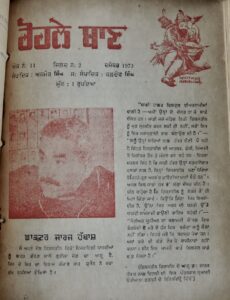 Rohle Baan; Issue: December 1973; Editor: Ajmer Singh
Photo: author, courtesy: Sher-Gil Sundaram Arts Foundation and Asia Art Archive
Koonal Duggal, Research Fellow in Social Anthropology at the University of Edinburgh.