GUEST BLOG: Youth Diplomacy in Action at the first Scottish Model Arctic Council
GUEST BLOG: Youth Diplomacy in Action at the first Scottish Model Arctic Council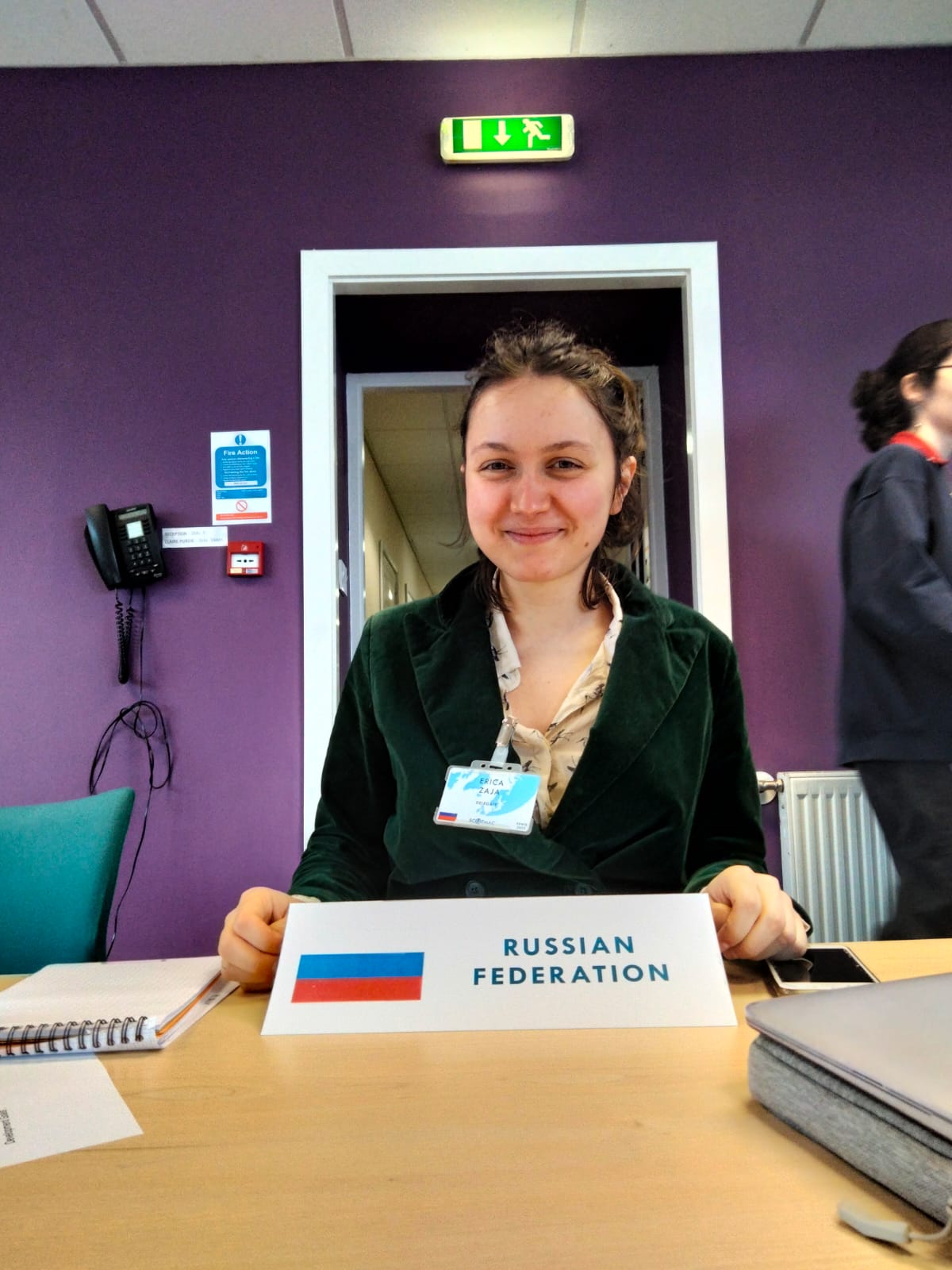 Reading Time:
5
minutes
By Eric Zaja, BSc Ecological and Environmental Science
My name is Erica Zaja and I'm a final Year Ecological and Environmental Sciences (EES) with Management student. I'm from Venice, Italy, but I have now been living in Edinburgh for 4 years. I'm a passionate ecologist, interested in the impacts of climate change on ecosystems. I am currently researching shrub expansion on the Alaskan North slope, in the Porcupine Caribou Herd habitat. I am also very keen to explore climate change mitigation and adaptation strategies, with a particular focus on vulnerable communities.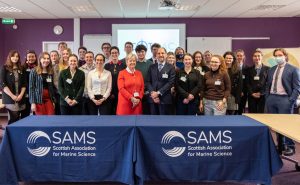 A few weeks ago I received an email regarding an upcoming Arctic conference. The email was forwarded to all EES undergraduates by Degree Programme Convenor Dr Gail Jackson. Dr Jackson got in touch with me directly to see whether I would be interested in participating, given the topic fit perfectly with my dissertation. Quite frankly, I didn't know what I was signing myself up for. However, it sounded like a great opportunity to learn more about a topic I'm very passionate about, get out of my comfort zone, and take part in my very first conference, so I said yes!
The weekend of March 10th – 14th I, therefore, found myself participating in the very first Scotland Model Arctic Council (SCOTMAC), a simulation of the real-world Arctic Council targeted to Undergraduate students. The Arctic Council was established in 1996 to facilitate good governance and international cooperation across the Arctic. The council is made up of 8 Arctic States (Canada, Denmark, Finland, Iceland, Norway, Russia, Sweden and the USA) and 6 Permanent Participant Organisations, representatives of Indigenous groups including the Aleut, Athabaskans, Gwich'in, Inuit, Saami and the many peoples of the Russian North. SCOTMAC – along with all other MACs held in different cities worldwide – was organised by Polar Aspect, Managed by Arctic specialist Dr Anthony Speca. The 3-day conference was held at the Scottish Association for Marine Science (SAMS) in Oban, where university students from all over the UK gathered to learn about diplomacy in real-life issues. SAMS gave all of us a very warm welcome.
SCOTMAC started with a Teaching morning, featuring enlightening expert talks. The conference started with a speech by Honorary Chair Marie-Anne Coninsx, former EU Ambassador for the Arctic and role model for all of us students at the conference. The Honorary Chair underlined the importance of youth diplomacy and education when addressing issues regarding the Arctic. Next, Dr Sian Henley from the University of Edinburgh gave us a thorough scientific overview of environmental changes occurring in the Arctic, complemented by a talk by Dr Sennan Mattar from Glasgow Caledonian University on climate justice and social issues in the Arctic. The Teaching Morning ended with a talk by Chair and organiser Dr Anthony Speca, on the Arctic as a homeland. Dr Speca's talk focused on changing the rhetoric of "what happens in the Arctic doesn't stay in the Arctic", which makes us want to act to save the Arctic for ourselves, rather than the people living there. Dr Speca's talk was so powerful that I still remember his words:
"What happens here doesn't stay here, it travels to the Arctic. The Arctic doesn't belong to us, it belongs to the Indigenous peoples living there".
All of us students came prepared to the conference, having been assigned an Arctic State or a Permanent Participant organisation to represent as a delegation with a fellow student. Each delegate was responsible for one of the two topics under discussion: the transmission of Indigenous knowledge from elders to youth and the expansion of Arctic shipping. I was representing the Russian Delegation and was responsible for the Indigenous knowledge transmission topic. Discussions in the working groups started off quite mild, with everyone acting a little shy and – as the Chair pointed out – perhaps overly polite. All discussions were overseen by the Chair and the Conference Secretariat, made up of students from SAMS. The latter always provided us with a smile, encouraging words and insightful conversations at every tea break, as well as typing up our – often messy – negotiations to the speed of light.
It was incredibly inspiring to see everyone take on their roles so passionately. By the end of the second day, discussions were getting more and more heated – although we knew the goal was to hopefully reach a consensus on these issues. In particular, the students playing the Indigenous groups representatives really took on their role with the utmost respect, giving powerful and heartfelt speeches. We finally all reconvened in plenary, to discuss the issues as a group in the Senior Arctic Officials meeting and to draft a declaration. Proposed clauses were flying around the room, delegations were passing notes to each other, while relentlessly trying to motivate their proposed clauses, writing new ones and keeping up with everything going on. It was definitely hectic at times. As the Russian Federation, me and my fellow delegate Charlie Norman tried to hold the reins of the negotiations, given the influence and position that the Russian Federation has in the Council in the real world. After long hours of discussions, we took on the roles of Ministers and we managed to reach consensus and agree on the very first Oban Declaration – which we were all incredibly proud of!
SCOTMAC was an incredibly eye-opening exercise, shedding light on a variety of issues and enabling students to develop a range of transferrable skills. The Chair made sure we always took time at the end of the day to engage in reflective discussions as a group. These helped us to think about what skills we were working on, how to improve the ongoing negotiations, and how what we were doing related to the real Arctic council. I learnt how to use diplomatic language, I learnt that diplomacy often happens when on a coffee break, I learnt that communication needs content, honesty, and proper use of words to be effective. I met amazing people that I will certainly keep in touch with.
Playing the Russian Delegation, I had to defend positions that – as an ecologist – were at times very far from my own ideas. My delegation was put on the spot and questioned several times. While challenged, we always managed to talk our way out of uncomfortable situations, which enabled us to receive a Certificate of Special Commendation by the Chair, who regarded us as the most credible and prepared Delegation. All students did an incredible job, also thanks to the expert guidance of the Chair and the Honorary Chair. The declaration was definitely a group effort. Indeed, as the Honorary Chair wittingly put it:
"We were thrown in the water, and we all swam".
SCOTMAC taught me more than I could imagine in the space of 3 days and I am incredibly grateful to have the opportunity to participate in such a great initiative. It was refreshing to be exposed to the world of diplomacy and to engage with environmental issues that I study at University in a completely different way. The conference introduced me to the world of policy and decision-making and showed me the extent to which decisions made in a room can impact the lives of millions of vulnerable people. I never thought I'd become a diplomat or get involved in any policy-related work.
I just might now.
Erica
Find out more about my program here: BSc Ecological and Environmental Science
Share