A Quick Guide to Commuting
A Quick Guide to Commuting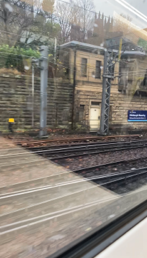 Reading Time:
5
minutes
By Lindsay, BSc, Geology and Physical Geography
Commuting or staying at university is a big choice to make, especially trying to decide what works best for you. Maybe you want to stay at home but have no idea how it works? Will you make your classes in time? Is it worth it financially?
I'm Lindsay, a 3rd-year Geology and Physical Geography student. I live in the Central Belt (which has its perks for good travel links), so when I was debating whether to stay in Edinburgh or commute through, it was actually quite a straightforward choice for me.  Most of my friends, or at least the ones attending a College or University nearby, were doing the same and the financial benefit of doing so was quite obvious. Throwing Covid into the mix when I was nearing the end of my first year solidified my decision, and here I am another 2 years later, letting you in on some of my commuting secrets!
Here's a quick overview of all the options if you're still struggling to decide, and hopefully it'll help you make a decision that's best for you!
1. Getting the train
Chances are if you are debating commuting to university, you live somewhere that either is nearby or has good connections to Edinburgh. From my experience, ScotRail trains have their highs and lows, however, they generally aren't too bad. Since the university itself is in the capital, even when there are some issues with the train lines, routes to and from Edinburgh are often prioritised, which is great for us commuters! In my 3 years of commuting, there's never been a time where I've been late or haven't been able to get into Edinburgh via the trains – even when it's been snowing, raining or whatever else the Scottish weather throws our way.
Now onto the price. If you will be on-campus 4 or more days a week, then a flexible season ticket is the way to go. You can pick the start and end date and that will be your transport to Edinburgh Waverly covered. On the other hand, if you are in 3 days or less per week, then it's actually cheaper buying return tickets every day (if you're using a discount card). ScotRail offers different options for tickets such as season tickets, monthly passes and flexi-tickets, however always double-check the options and see what discounts may apply to you.
Discounts include:
Young Scot Card – This can get you half-price tickets (for weekly and monthly tickets including a flexible season ticket) or you can get 1/3 off most other tickets. You can use this right up until you turn 18, so it's a great option for 1st years who are still 17. It is worth noting that depending on your birthdate, you can buy a flexible season ticket the day before you turn 18, and still receive the 50% off.
16-25 Railcard – this costs £30 for 1 year, or you can buy 3 years for £70. You can use this for on-peak and off-peak tickets, although for on-peak there is a minimum charge of £12 for a return. This discount card makes it cheaper to buy returns instead of the flexible 10 journeys that ScotRail also offer.
There are so many more discount cards available based on individual circumstances, so it is worth a look. Remember to double-check whether the discounts can be used with on-peak tickets, as well as if there's an age cut off. It's always worth adding up how often you'll actually be on campus since buying an annual ticket won't be worth it if you're only in 2 days a week.
2. Buses
I'd always recommend getting the train where possible, however, if you live much closer to Edinburgh then getting a bus may be the best option.
Lothian buses, like ScotRail, have various tickets on offer including 9-month student tickets for £450 and annual tickets for £510 with a valid student matriculation card/ID.
Also, Lothian buses are now allowing people with an eligible Young Scot Discount Card to travel on the day services for free!
Lothian buses run both day and night services. The night tickets are slightly more expensive at £3, opposed to the £1.80 for the day singles, but if you decide to buy the annual ticket for £510, then night bus travel is included.
Once you have arrived in Edinburgh, you may be wondering how to get to your classes especially if you have some at Kings Buildings. Edinburgh University provides a free shuttle bus between Central and Kings Building, all you have to do is show your student ID when getting on. The bus leaves from Bistro Square, and despite the sometimes long lines you're almost always guaranteed to get on since 2 buses run during busier times. If you don't manage or don't have time to wait, the number 41 runs between Bistro Square and Kings too.
The shuttle bus timetables are available on the University website (linked at the bottom of the page).
3. Parking
Driving through to Edinburgh may be the best option for some people, however, depending on the campus you are heading to, the main struggle is finding a good parking space. The university does provide permits for parking, which need to be applied for online – there are 2 types. One is for everyday use and the other is for part-time use of parking. The cost of these permits varies depending on which campus you will be parking at. Students with a Blue Badge or an EU Model Parking Card can apply for a permit and park free of charge. If you are planning on driving in and you don't qualify for a permit, then remember to buy a ticket since the parking officers do patrol every day (including within the University parking areas) and you will be fined if you don't have a valid ticket or permit.
4. Walking
Edinburgh and most of the University campuses are very walkable – there are so many different ways and routes that you can take to get from A to B. Waverly Station to Bistro Square is only about a 12 minute walk, the High School Yards is under 10 minutes away and Kings is around 50 minutes away. The bus stops obviously bring you a lot closer to your destination, but if you have time, nice weather and want to save some money then walking around is a good way to get about.
So, what is the best option?
This is just a quick guide to getting in out and around Edinburgh. Commuting or staying is a tough decision to make, but personally, I wouldn't change. When the cost of a train ticket for both semesters is the same as 1 or 2 months of rent for some people, the financial benefits of commuting are extremely obvious, especially during Covid when commuting costs are at their lowest. At the end of the day, you need to decide what is best for you and this will be different for different people. Remember your decisions aren't set in stone either, some people may decide to commute for 1 semester, 1 year or for their whole degree. The ScotRail and Lothian app are always good to have downloaded regardless, as it makes finding trains and buses as well as buying tickets much easier. Also, carrying around your student ID and Young Scot Card (if you have one) is a good way to get discounts on journeys too. I hope this quick guide is useful to anyone considering travelling to university and be sure to check out the useful links as well as the School of Geosciences social media pages for more information.
Useful Links:
ScotRail: https://www.scotrail.co.uk/
Lothian: https://www.lothianbuses.com/
Shuttle Bus Timetable: https://www.ed.ac.uk/transport/public-transport/buses/shuttle-bus
Getting Around: https://www.ed.ac.uk/students/living-in-edinburgh/visiting-campus/transport
Find out more about studying with us: www.ed.ac.uk/geosciences 
Share