The Legend of Greyfriars Bobby!
The Legend of Greyfriars Bobby!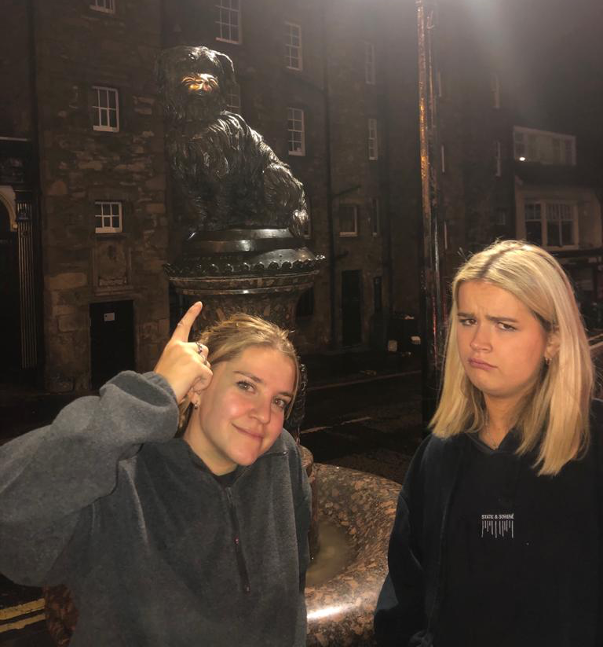 Reading Time:
2
minutes
By Ottilie, BSc Geography 
A famous statue of a dog stands in the heart of Old Town, Greyfriars Bobby. I pass it every day as I walk into uni. Bobby was the loyalist of dogs. After his owner's death, he sat by the grave, guarding it every day for 14 years until he himself passed away in 1872. The grave is in Greyfriars Kirkyard, a graveyard just by the main campus of Edinburgh university, giving him the name 'Greyfriars Bobby'. Bobby was buried just inside the gate of the church and graveyard, near his owner's grave.
The legend of this faithful Skye Terrier lives on. The statue of Bobby sits upon a granite water fountain near the entrance of Greyfriars Kirkyard and several books and films have been based on Bobby's life, inspired by his devotion to his owner. Bobby's collar is even held in the Museum of Edinburgh. A headstone stands where Bobby was buried, people often leave sticks by it – as a sort of dog version of leaving flowers by a grave!
Bobby's statue attracts many tourists, making it sometimes impossible to touch his nose as you pass because of the tourist groups flooded around him! Bobby's nose shines gold as the statue has been worn down due to the tradition of touching Bobby's nose as you pass him, giving you good luck. I always try tap his nose as I walk past – a cute little tradition that spices up my journey to lectures! Although we can't go and touch Bobby right now, it's nice to know that he is taking safety precautions against coronavirus too!
Follow us on Instagram or Twitter for more updates from our Geosciences students!
Share