By Fani Apospori  
In a guest blog post, Fani Apospori explores the intersections of toxicity, gender, colonialism, and the environment through the lens of the 'Resisting Toxic Climates' conference: an event which centered around discovering innovative, embodied strategies of resistance and solidarity.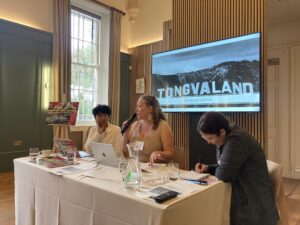 As the summer rain bathed the Royal Botanic Gardens Edinburgh, a remarkable conference unfolded within the Gardens' Caledonian Hall, inviting us to explore the intricate nexus intertwining toxicity and colonialism. The British Academy and Wellcome Trust conference 'Resisting Toxic Climates: Gender, Colonialism, Environment,' held on 26th and 27th July 2023, and organised by Dr Rebecca Macklin, Dr Alexandra Campbell and Professor Michelle Keown, transcended expectations, delving deep into the complex sociopolitical and cultural narratives surrounding toxification, and bridging the domains of medical and environmental humanities. This interdisciplinary nature of the event, together with its focus on feminist, queer, decolonial, and Indigenous paradigms, brought together a diverse array of international scholars and artists, each armed with their unique perspectives and methodologies, in order to collectively examine modes of resistance against the way colonial and capitalist toxicity either silently or spectacularly propagates, mutates and permeates particularly situated bodies, lands and waterscapes.
      Over the course of two highly stimulating days, and continuously alternating between critical and artistic responses, different temporalities, and spatial scales – the singular, the local and the planetary –, the speakers grappled with questions that transcend the boundaries of conventional academic inquiry: How does toxicity manifest differently across genders, in diverse landscapes, and within the fluid boundaries of bodies, water, land and air? How do historical injustices continue to shape our experiences of environmental harm? The conference highlighted newly emerging as well as well-known and persisting toxic challenges; topics ranged from Natasha Thembiso Ruwona's concept of 'unbreathable atmospheres' and the weather as a constantly weaponised socioecological plain, to Patricia Widener's 'oil conditioning' and everyday oil violences, Dipali Mathur's exploration of toxic politics of e-waste management, and Simone Muller's 'garbage imperialism' and the trail of waste trading as a manifestation of racialised ecologies.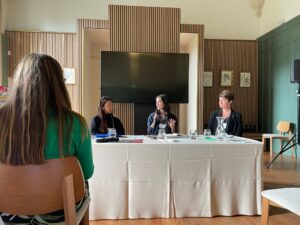 The particular location of the conference did not escape scrutiny; throughout the duration of the talks, in lunch breaks and coffee sessions, a lot of discussions and comments revolved around colonial toxicity and its historical ties to Scotland, the city of Edinburgh, and even the Botanic Gardens, especially during the guided tour of Keg de Souza's exhibition "Shipping Roots", which was held inside the Gardens' Inverleith House.
      The conference's core rested on suggesting and acquainting speakers and attendees with modes of resistance, refusal and resurgence in the face of toxic legacies. Coming from very diverse backgrounds, speakers introduced us to novel, often unexpected, but always embodied and subversive strategies of resistance, emerging from very different realms; for instance, Meztli Yoalli Rodriguez looked at grief as a portal for resistance against environmental dispossession in Mexico and beyond, while Savage Bear turned her attention to literature to emphasize the power of the erotic as a route to Indigenous corporeal sovereignty. Mishuana Goeman ventured into infrastructure and the built environment, arguing that the reclamation of public space can form the foundation of building new ecologies. Artistic methods of resistance also played a prominent role; among others, J.T.Roane unveiled the importance of dance as ecological methodology for decolonising space, Treasa Deloughry and Alycia Pirmohamed examined the creation of contemporary ecological poetry, and Thandi Loewenson offered a screening of her film "The Uhuru Catalogues", centring space technology pollution and the strategic use of drawing to theorise and visualise the invisible.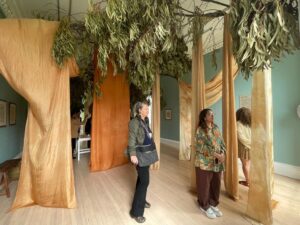 Towards the end, speakers, convenors and attendees departed from the typical conference space format to form a non-hierarchical circle – a 'forum', as it was termed in the conference programme. This informal space encouraged open and honest discussions, where everyone was encouraged to share reflections, questions, key takeaways and hopes. Consecutively, while collectively reminiscing about the thought-provoking insights gained from 'Resisting Toxic Climates', we also look forward to the wealth of ideas, action items and collaborations that emerged and took shape in the forum. The convenors are now working on plans for a publication stemming from the event as well as exploring other options for continuing these crucial conversations.
      As a conference support intern and a Master's student myself, witnessing scholars I encountered in my studies form such a welcoming, inclusive and friendly atmosphere was profoundly transformative. The conference convenors' creation of an inherently innovative and horizontal space to safely address and balance often uncomfortable and triggering issues with glimmers of hope rooted in solidarity and collective action, left a lasting impression.
Author Bio
Fani Apospori studies an MSc in Literature and Modernity at the University of Edinburgh. She holds a BA in English Literature from the National Kapodistrian University of Athens, Greece, and works in community-led climate action communications and environmental justice multimedia storytelling. Apospori has researched the role of literature in Indigenous environmental justice movements in the US, Canada and the Pacific and has written papers on radical eco-sentience, climate change as an intensification of colonial violence, and trans-Indigenous healing. Her MSc dissertation explores sea level rise in relation to nuclear testing legacies in the Pacific region through Marshallese poetry.