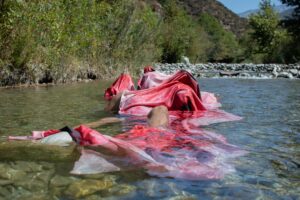 This summer, we are delighted to be hosting the British Academy and Wellcome Trust conference, '
Resisting Toxic Climates: Gender, Colonialism, Environment
'. This special in-person event will take place on Wednesday 26th and Thursday 27th July at the Royal Botanic Gardens Edinburgh. The registration link and draft programme can be found
here
.
Whether it's the spectacular event of an oil spill or the scarcely perceptible pollution of micro-plastics, toxicity is central to the environmental concerns of today. To exist in the world means being vulnerable to multiple forms of toxicity. Yet, conditions of vulnerability are unequal, shaped by enduring global histories of colonialism and capitalism.
This two-day event will highlight the toxic valences of coloniality, asking how toxicity manifests and mutates with particular regard to gender across variously situated bodies, lands and waterscapes. While we are concerned with the interrelated forms of material toxicity that threaten the wellbeing of human and more-than-human communities, we also seek to facilitate dialogue around pertinent social, political and cultural discourses of toxification. Operating at the intersections of the medical and environmental humanities, and centering feminist, queer, decolonial and Indigenous paradigms, this interdisciplinary event brings together scholars and practitioners working across disciplines and employing creative and/or critical modes of enquiry to explore these topics.
Resisting Toxic Climates will feature a series of original artworks by
Natasha Thembiso Ruwona
 and 
Caitlin Stobie
, produced in response to the themes and setting of the event. The programme will also feature a tour of the exhibition 
Shipping Roots
 by Keg De Sousa, led by the exhibition curator Emma Nicolson.
Resisting Toxic Climates: Gender, Colonialism Environment
Dates: Wednesday 26th – Thursday 27th July
Location: Royal Botanic Gardens Edinburgh
Conference convenors
Dr Rebecca Macklin, University of Edinburgh

Dr Alexandra Campbell, University of Glasgow

Professor Michelle Keown, University of Edinburgh
Speakers
Professor Mishuana Goeman, University of Buffalo

Professor Savage Bear, McMaster University

Professor Cecilia Åsberg, Linkoping University & KTH

Professor Astrida Niemanis, University of British Columbia Okanagan

Professor Patricia Widener, Florida Atlantic University

Dr J.T. Roane, Rutgers University

Dr Metzli Yoalli Rodriguez, Forest Lake University

Dr Jason Allen-Paisant, University of Manchester

Dr Christine Okoth, Kings College London

Dr Treasa De Loughery, University College Dublin

Dr Dipali Mathur, Ulster University

Dr Thandi Loewenson, Royal College of Art

Dr Craig Santos Perez, University of Hawaii

Dr Hannah Boast, University of Edinburgh

Dr Alycia Pirmohamed, University of Cambridge
Artists
Caitlin Stobie

Natasha Thembiso Ruwona
This event is in-person only and places are limited so early registration is encouraged. Unfortunately we are unable to facilitate remote attendance.
British Academy/Wellcome Trust Conferences
bring together scholars and specialists from around the world to explore themes related to health and wellbeing. This event has been made possible with additional support from the University of Edinburgh, the Edinburgh Environmental Humanities Network, and the Leverhulme Trust.