Conveners
Michelle Bastian
Senior Lecturer in Environmental Humanities, Edinburgh College of Art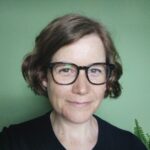 Michelle is a Senior Lecturer in Environmental Humanities at the Edinburgh College of Art, University of Edinburgh and an Associate Professor II at the University of Oslo in the Oslo School of Environmental Humanities. Her work crosses critical time studies and environmental humanities, with a focus on the role of time in human and more-than-human communities. She is Editor-in-Chief for Time & Society (SAGE) and a co-editor of a number of collections including, The Social Life of Time (Time & Society), Field Philosophy and Other Experiments (Parallax) and  Participatory Research in More-than-Human Worlds (Routledge). Michelle has recent publications in Environment and Planning E, Environmental Humanities and GeoHumanities. From 2021-2022, Michelle was a Mid-Career Fellow supported by the Independent Social Research Fund, looking at the scientific study of lifecycle events (phenology) and how it could contribute to work in the environmental humanities.
---
David Farrier
Professor of Literature and the Environment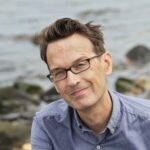 David Farrier's books include Footprints: In Search of Future Fossils (4th Estate, 2020) and Anthropocene Poetics: Deep Time, Sacrifice Zones and Extinction (University of Minnesota Press, 2019). Footprints won the Royal Society of Literature's Giles St Aubyn award and is translated into nine languages. He is currently writing a book about human-driven evolution, At Evolution's Edge: What Nature Can Teach Us About Life on a Human Planet. David.Farrier@ed.ac.uk
---
Fred Carter
Saltire Emerging Researcher, University of Amsterdam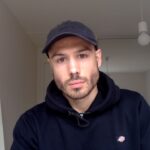 Fred Carter is an AHRC-funded PhD researcher in contemporary poetry and environmental humanities. He teaches Queer Studies and pre-honours English Literature at the University of Edinburgh. Between May and July 2019, he was a visiting doctoral student at the Rachel Carson Centre, Munich. Currently, he is co-organiser of the AHRC-funded project 'FIELDWORK: Sites & Infrastructures in the Environmental Humanities' and co-editor of a forthcoming special issue of Green Letters on 'Militant Ecologies.'
His doctoral research examines linguistically innovative poetry in relation to the environmental humanities, situating the research practices of the open field, the formal tactics of Marxist-feminist poetry, and their afterlives in contemporary innovative poetics within and against the Anthropocene. He is particularly interested in the relation of environmental poetry to nonlinear temporalities, queer and feminist Marxisms, and critical junctures between historical materialism and the material turn.
A book chapter, titled '"time on the rocks": Parataxis, materialism, & nonlinear time in the archaeopoetic "now" of Wendy Mulford's innovative lyric,' is forthcoming in Corroding the Now (Veer Books & Crater Press, 2021) and a review of Rob Kiely's simmering of a declarative void (87 Press 2020) was recently published by SPAM magazine.
He has published poetry in Tenebrae, erotoplasty, -algia, and the weird folds: everyday poetry from the Anthropocene (Dostoyevsky Wannabe 2020). His first collection, Notes for Presenteeism & Sleep is out with Veer2 in 2021.
---
Rebecca Macklin
Leverhulme Early Career Fellow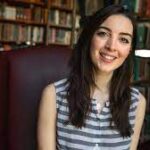 Dr Rebecca Macklin is based in the School of Literatures, Languages and Cultures, where she is carrying out a Leverhulme Trust-funded project examining literary and cultural engagements with gender, indigeneity and the extractive industries. Prior to coming to Edinburgh, Rebecca completed a PhD at the University of Leeds and from 2020-2021 was Mellon Postdoctoral Fellow at the Penn Program in Environmental Humanities, University of Pennsylvania. In 2017-2018, she spent a year as Fulbright Visiting Researcher at Cornell University with the American Indian and Indigenous Studies Program.
She has published work in ariel, Interventions, Wasafari, Native American and Indigenous Studies and in 2019 co-edited a special issue of Transmotion. She is presently the Ecocriticism editor for The Year's Work in Critical and Cultural Theory and is writing a book manuscript based on her PhD, entitled Unsettling Fictions: Relationality and Resistance in Native American and South African Literatures. She can be contacted on r.macklin@ed.ac.uk.
Eszter Erdosi
Postgraduate convenor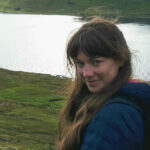 Eszter Erdosi is a PhD Researcher in Art History at the Edinburgh College of Art, University of Edinburgh. Her work lies at the intersection of art history and animal studies, and focusses on the representation of politicised relationships of care between human and other-than-human animals in contemporary art. Beyond the framework of the University, she is also a member of the Ecologies of Care working group, supported by the Igor Zabel Association for Culture and Theory. When she is not reading, reflecting and writing, she can be found trail running in the Pentlands. Eszter can be contacted at e.erdosi@sms.ed.ac.uk
---
Members
Peter Adkins (Early Career Teaching and Research Fellow, University of Edinburgh)
Ramsey Affifi (Lecturer in Biology Education and Environmental Philosophy, University of Edinburgh)
Emily Alder (Lecturer in Literature and Culture, Edinburgh Napier University)
Timothy C. Baker (Personal Chair in Scottish and Contemporary Literature, University of Aberdeen)
David Borthwick (Lecturer in the School of Interdisciplinary Studies, University of Glasgow)
Alexandra Campbell (Lecturer in Contemporary Literature and Environmental Cultures, University of Glasgow)
Kate Carter (Senior Lecturer in Architecture Environment and Technology, University of Edinburgh)
Darrick Evensen (Senior Lecturer in Environmental Politics, University of Edinburgh)
Daniele Fulvi (Lecturer, Western Sydney University)
Grace Garland (PhD researcher & Tutor, University of Edinburgh)
Sophie Haines (Lecturer in Anthropology of Development, University of Edinburgh) 
Michael Hrebeniak (Convenor, New School of the Anthropocene / Lecturer in Film Poetics, UCL)
Zsuzsanna Ihar (PhD Candidate/Gates Scholar, University of Cambridge)
Henry Ivry (Lecturer in 20th & 21st Century Literature, University of Glasgow)
Michelle Keown (Professor of Pacific and Postcolonial Literatures, University of Edinburgh)
Roxani Krystalli (Lecturer, School of International Relations, University of St Andrews)
Matthew Lear (PhD candidate, LLC, University of Edinburgh)
Killian O'Dochartaigh (Lecturer in Architecture and Urbanism, University of Edinburgh)
Andrew Patrizio (Professor of Scottish Visual Culture, University of Edinburgh)
Pauline Phemister (Professor of History of Philosophy, University of Edinburgh)
Claudia Rosenhan (Lecturer, Moray House School of Education and Sport, ILE)
Martin Schauss (Early Career Teaching and Research Fellow, LLC, University of Edinburgh)
Nicole Seymour (Associate Professor of English and Graduate Advisor for Environmental Studies, California State University, Fullerton)
Maria Sledmere ( Lecturer in Creative Writing (Poetry), University of Strathclyde)
Leslie Sklair (Emeritus Professor of Sociology, London School of Economics)
Antonia Thomas (Lecturer in Archaeology, University of the Highlands and Islands)