Conveners
Michelle Bastian
Senior Lecturer in Environmental Humanities, Edinburgh College of Art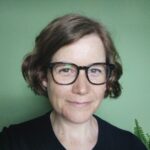 Michelle is a Senior Lecturer in Environmental Humanities at the Edinburgh College of Art, University of Edinburgh and an Associate Professor II at the University of Oslo in the Oslo School of Environmental Humanities. Her work crosses critical time studies and environmental humanities, with a focus on the role of time in human and more-than-human communities. She is Editor-in-Chief for Time & Society (SAGE) and a co-editor of a number of collections including, The Social Life of Time (Time & Society), Field Philosophy and Other Experiments (Parallax) and  Participatory Research in More-than-Human Worlds (Routledge). Michelle has recent publications in Environment and Planning E, Environmental Humanities and GeoHumanities. From 2021-2022, Michelle was a Mid-Career Fellow supported by the Independent Social Research Fund, looking at the scientific study of lifecycle events (phenology) and how it could contribute to work in the environmental humanities.
Hannah Boast
Chancellor's Fellow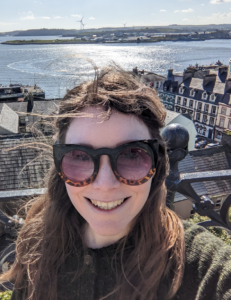 Hannah Boast is Chancellor's Fellow at University of Edinburgh and author of Hydrofictions: Water, Power and Politics in Israeli and Palestinian Literature (Edinburgh University Press, 2020). Hydrofictions was shortlisted for the ASLE-UKI Book Prize 2021. Hannah works across cultural geography, political ecology, animal studies and contemporary literary studies, and is Associate Editor of Environmental Humanities.
---
David Farrier
Professor of Literature and the Environment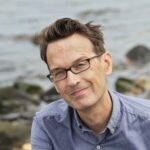 David Farrier's books include Footprints: In Search of Future Fossils (4th Estate, 2020) and Anthropocene Poetics: Deep Time, Sacrifice Zones and Extinction (University of Minnesota Press, 2019). Footprints won the Royal Society of Literature's Giles St Aubyn award and is translated into nine languages. He is currently writing a book about human-driven evolution, Curious Earth: Reimagining Animal and Human Life Together, which will be published by Canongate in 2025.
Ellie Bush
Postgraduate convenor
Ellie is a practice-based PhD student based in the School of Art. Her research adopts a theoretical, practical and place-based methodology to ask how artistic approaches can facilitate affective encounters with more-than-human temporalities and agency, specific to rainforest habitats along Britain's west coast. By developing art-based approaches to multispecies ethnography, she also examines ethical and temporal questions arising from more-than-human creative collaboration, reflecting on object-based conservation interventions specific to these habitats. By translating and migrating wider environmental humanities, place-based and multispecies approaches to creative methodologies, including artist fieldwork, sound recording, artist moving image, photography and site-responsive sculpture, Ellie aims to investigate how artistic methods can amplify awareness of multispecies temporalities and how these are negotiated by human users within these rare habitats.
Matthew Lear
Postgraduate convenor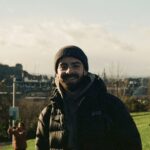 Matthew is a PhD researcher in English Literature at the University of Edinburgh where his research on 'Repurposed Poetics and Anthropocene Time' is funded by the Scottish Graduate School for Arts & Humanities AHRC Doctoral Training Partnership. His work focuses on contemporary literature from Hawai'i, Guåhan, the Marshall Islands, and California. It considers how writing can be recycled to trace and highlight ecological change as it unfolds, parsing attuned ethical and political possibilities. A recent Scotland-based scholar selected for the British Council's 'EARTH' programme, Matthew is also an editor for the FORUM journal, and sits on the SGSAH Doctoral Research Committee.
---
Members
Peter Adkins (Early Career Teaching and Research Fellow, University of Edinburgh)
Ramsey Affifi (Lecturer in Biology Education and Environmental Philosophy, University of Edinburgh)
Emily Alder (Lecturer in Literature and Culture, Edinburgh Napier University)
Timothy C. Baker (Personal Chair in Scottish and Contemporary Literature, University of Aberdeen)
David Borthwick (Lecturer in the School of Interdisciplinary Studies, University of Glasgow)
Alexandra Campbell (Lecturer in Contemporary Literature and Environmental Cultures, University of Glasgow)
Fred Carter (Research Fellow, School of Critical Studies, University of Glasgow)
Kate Carter (Senior Lecturer in Architecture Environment and Technology, University of Edinburgh)
Yashaswini Chandra (Lecturer in South Asian Art History, History of Art, University of Edinburgh)
Darrick Evensen (Senior Lecturer in Environmental Politics, University of Edinburgh)
Eszter Erdosi (PhD Candidate in History of Art, University of Edinburgh)
Daniele Fulvi (Lecturer, Western Sydney University)
Grace Garland (PhD researcher & Tutor, University of Edinburgh)
Sophie Haines (Lecturer in Anthropology of Development, University of Edinburgh) 
Michael Hrebeniak (Convenor, New School of the Anthropocene / Lecturer in Film Poetics, UCL)
Zsuzsanna Ihar (PhD Candidate/Gates Scholar, University of Cambridge)
Henry Ivry (Lecturer in 20th & 21st Century Literature, University of Glasgow)
Michelle Keown (Professor of Pacific and Postcolonial Literatures, University of Edinburgh)
Roxani Krystalli (Lecturer, School of International Relations, University of St Andrews)
Matthew Lear (PhD candidate, LLC, University of Edinburgh)
Rebecca Macklin (Interdiscplinary Fellow, Language, Literature, Music and Visual Culture, English University of Aberdeen)
Killian O'Dochartaigh (Lecturer in Architecture and Urbanism, University of Edinburgh)
Andrew Patrizio (Professor of Scottish Visual Culture, University of Edinburgh)
Anna Pilz (Academic Developer and Trainer, University of Edinburgh)
Pauline Phemister (Professor of History of Philosophy, University of Edinburgh)
Claudia Rosenhan (Lecturer, Moray House School of Education and Sport, ILE)
Martin Schauss (Early Career Teaching and Research Fellow, LLC, University of Edinburgh)
Nicole Seymour (Associate Professor of English and Graduate Advisor for Environmental Studies, California State University, Fullerton)
Maria Sledmere ( Lecturer in Creative Writing (Poetry), University of Strathclyde)
Leslie Sklair (Emeritus Professor of Sociology, London School of Economics)
Şebnem Susam-Saraeva, Personal Chair of Translation Studies, University of Edinburgh
Antonia Thomas (Lecturer in Archaeology, University of the Highlands and Islands)
Luca Zenobi (British Academy Postdoctoral Fellow, School of History, Classics and Archaeology, University of Edinburgh)